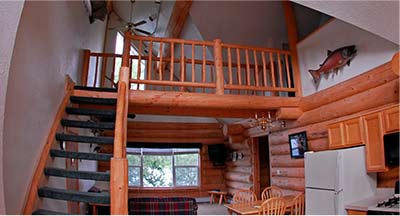 Our Suites
Overlooking Longmere Lake teeming with Rainbow Trout, our waterfront Log Lodge suites provide all the comforts and conveniences of home. One bedroom units sleep up to three, and two-bedroom units sleep up to six. Each suite has a full kitchen, rustic decor, private living area, breathtaking views and modern conveniences like high-speed wireless internet, satellite TV, outdoor firepits and more.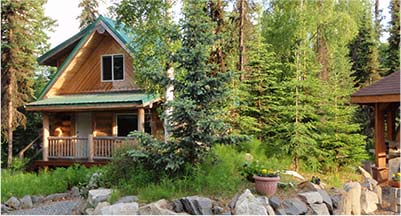 Our Cabins
Want more privacy, or need more space for a bigger family? Both of our cabins are tucked away into the woods near the main lodge, each with all the same amenities as our lodge suites. Each one is a two bedroom, two full bath cabin with generous space — so there's room for all the gear you brought. Rustic and private but with all the comforts you expect, our cabins are the perfect place to crash after a long day exploring the Alaskan wilderness.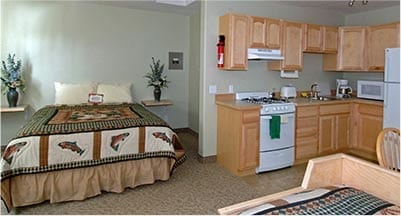 Our Studios
For individuals, couples or those who simply need a warm bed between fishing trips, our studios located above the conference dining center offer an affordable place to rest your head, complete with all the same amenities, in a no-frills setup ideal for two guests. Spacious and with a private bath and full kitchen, each room is a great jumping-off point for the dedicated angler or hunter.
All Alaska Outdoors Lodge: Your Home Base For Alaskan Adventure
Alaska is known as The Last Frontier, but it's first in the hearts of outdoor sports enthusiasts. Get away from it all by staying with us at the All Alaska Outdoors Lodge and enjoy some of the best fishing, hunting, hiking and other outdoor activities available on Earth! In scenic Soldotna, Alaska south of Anchorage and just minutes from Kenai Fjords National Park, All Alaska Outdoors Lodge is your home base for an adventure you'll remember for a lifetime.
From fly fishing in the abundant rivers and streams to deep sea fishing the cold salt waters of the Pacific ocean, from hunting Ptarmigan birds to hiking through breathtaking forests and meadows, you'll always have a warm lodge and cozy bed to return to. To recharge your batteries and get you ready for another day of adventure!
Inspired by Nature
Alaska Lodging, Alaska fishing, Alaska fly-in fishing and Alaska Ptarmigan Hunting are just a few of the activities that you will enjoy when you visit All Alaska Outdoors

Ronnie Philips
Heartland Waterfowl
www.heartlandwaterfowl.com