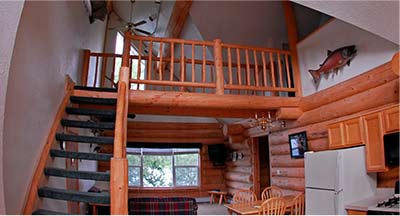 Suites
Our waterfront Log Lodge suites overlook the Rainbow Trout filled Longmere lake and the All Alaska Outdoors float plane dock.  Each suite has a complete kitchen and full bathroom with a second vanity center.  One bedroom suites sleep up to 3 persons (1 Queen, 2 Twins) and two bedroom suites sleep up to 6 persons (each bedroom has 1 Queen and 2 Twins).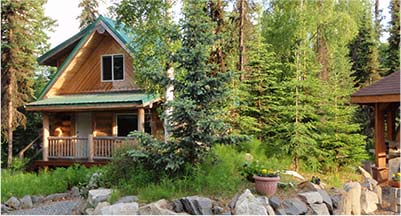 Cabins
Both of our Two bedroom, Two bath cabins our nestled in the wooded area of our 4 acre waterfront complex.  These lodging options are completely private, with no shared walls.  Each cabin sleeps 4 persons with each bedroom layout including a Queen and a Twin bed. As with all of our lodging, a full kitchen and private living area is part of your set up.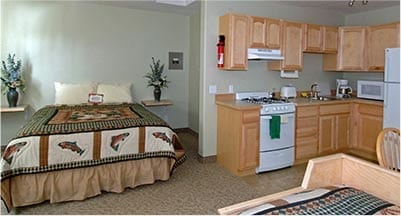 Studios
Our Studios our located above our Conference and Dining Center.  They sleep two persons with bedding options including 1 Queen and 1 Twin bed.  They have a 20′ x 20' footprint offering plenty of room for two persons along with a full kitchen and private bath.
Come and experience the most versatile array of angling and outdoor pursuits available in South Central Alaska. All Alaska Outdoors Lodge offers Deluxe Suite accommodations suitable for the single outdoorsman or larger groups. We can put you into the thick of the July Kenai King run or take you over spectacular glacier-filled mountain ranges to remote secluded fishing waters for Salmon, Rainbows, Pike, Grayling, Lake Trout and Char. Our Fall guests can experience the incomparable "Bay of Pigs" giant Silver Salmon Fishing or wingshooting on a Fly In Alaska Ptarmigan Hunt or a Kenai River Duck Hunt.
Inspired by Nature
Alaska Lodging, Alaska fishing, Alaska fly-in fishing and Alaska Ptarmigan Hunting are just a few of the activities that you will enjoy when you visit All Alaska Outdoors

Ronnie Philips
Heartland Waterfowl
www.heartlandwaterfowl.com