Alaska Bear Viewing and Ecotours
All Alaska Outdoors has many options for the ecotour minded person in your group. Our Float Plane Alaska Fly In Fishing Trip is an excellent option for Close-up Alaska Bear viewing and photography.  The Crescent Lake Fly In is offered specifically for Alaska Bear Viewing. The locations we visit on the Wheeled Plane Fly In are excellent places to see Brown Bears in a very beautiful coastal setting in Lake Clark National Park. The Ultimate Expedition provides amazing aerial flightseeing. We have several venues that put you over large concentrations of Brown Bears and Coastal Seals and we excel at finding that Trophy Bull Moose, Dall Sheep or Caribou Herd you're wanting to see. At several of our destinations you can view and photograph Black and Brown Bears, Eagles, Sea Otters and breathtaking scenery in an exclusive setting.  Don't miss the chance to use this trip to visit Dick Proenneke's Cabin from "One Man's Wilderness". We often have resident Moose Cows and Calves visit our lakefront facility. Paddling one of our Mad River Canoes on our mile long lake will undoubtedly provide you the opportunity to approach one of our Loon families at close range. The Marine Life Viewing on one of our Deep Sea Combo Trips is reason enough to go but we trust you won't mind the fillets you'll take home. All Alaska Outdoors can show you the Greatland! Come and see it with us soon!
3 Night/2 Day Fly Out Bear Viewing Eco Tour Package
2 Person minimum
3 Nights Lodging
Arrive Sunday and Depart Wednesday or Arrive Thursday and depart Sunday
Package includes Fly Out bear viewing to Chinitna Bay or Silver Salmon Creek on Wheels, Beach landing and bear viewing and photography for one hour and West coast Cook Inlet Flight seeing on return.
This package includes date-specific extras:
Book These Dates…
Price.
…Get These Extras
June 7 – July 5
$1350
per person, plus tax
Package includes the FLOAT PLANE ALASKA FLY IN FISHING TRIP-WOLVERINE CREEK BEAR VIEWING (fishing is optional)
August 2 – September 6
$1495
per person, plus tax
Package includes the CRESCENT LAKE FLY IN FISHING TRIP WITH BEAR VIEWING (fishing is optional)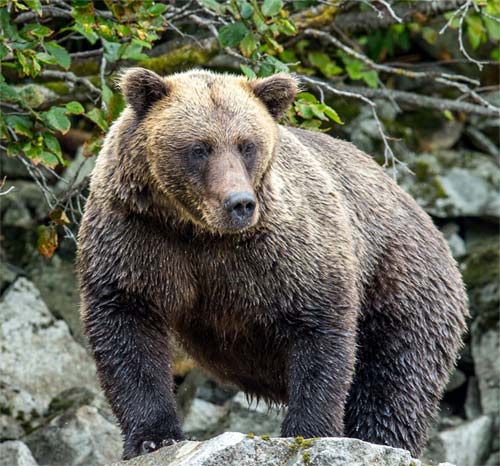 Crescent Lake Fly In Fishing Trip with Bear viewing
Crescent is a stunningly beautiful mountain lake with a good population of Brown Bears and decent fishing for Lake Trout and Dollies and Silvers later in the year. Travel around the lake searching for brown bears, many with cubs, in comfortable 18′ aluminum boats.  Alaska Bear Viewing should be awesome as multiple bear sightings are the norm.
Crescent West Fly In Pricing  (August and September)
$501 per person – Includes $6 Park Fee
Float Plane Alaska Fly In Fishing Trip-Wolverine Creek Bear Viewing
You will leave by floatplane and be flown to a remote Lake on the West Side of Cook Inlet. There you may watch and photograph bears from your boat, and fish for the same Salmon that these huge Coastal Brown Bears are attempting to catch. This is an experience that most people can only dream about or watch on the Discovery Channel. This is typically a 6 hour trip though weather can alter the length of the trip. Be sure to pack a lunch, it's a long day.
$450 per person
The Ultimate Expedition Alaska Fly In Fishing Trips
Alaska's best fly in fishing trips! Don't leave Alaska without understanding why it is revered and named "The Great Land". You must spend a day with us flying away from civilization to where there are no roads. Keep your cameras handy on this quest to experience the true magnificence of Alaska that few have known. We will fly over rugged mountains, past active volcanoes and next to spectacular unnamed glaciers peering down into these mountains of blue ice.
In pursuit of different species of fish, we will fly across the tundra, landing in different remote rivers and lakes to catch Alaska's famous migrating Salmon, Dolly Varden, Lake Trout, Grayling, Northern Pike and Trophy Rainbow Trout. This is more than just an Alaska Fly In Fishing or sight seeing trip. Your group will fly in our newly refurbished Dehavilland Beaver, each member of your party with their own headset. You may talk with each other or listen to your pilot guide narrate your amazing journey.
We would be honored if you would allow us to share with you the Alaska that we love in the hope that you will feel the exhilaration while being humbled by experiencing the vastness of our last frontier.
Favorite venues for May and June include fly in lake fishing for giant trophy Northern Pike and clear water stream and lake fishing for Grayling, Lake Trout and Char. Late June and early July anglers may fish for Sea Run Dollies and Salt Water Sockeyes combined with Grayling or tiny stream Rainbows. You may want to experience Grayling, Lake Trout and Char fishing in Lake Clark National Park. Mid August and September offer Silver Salmon fishing at the incomparable "Bay of Pigs" where HOT action on 12-18 pound Silvers on fly or spinners is common.
Though the typical trip concentrates on remote fishing experiences, our venues almost always include incidental brown or black bear viewing, and for the adventurer, we can go out of our way to get up close to bears for the memories of a lifetime.
$875 per person  We will combine parties of 1, 2 or 3 persons with other small groups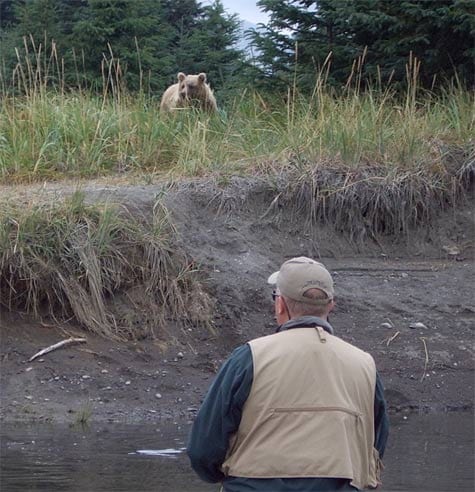 WHEELED PLANE ALASKA FLY IN FISHING
During the August and September time frames, we provide the opportunity for remote fly in fishing to streams on the West Side of Cook Inlet, accessed by wheeled planes landing on the remote beaches. You will fly from Soldotna to the western shore of Cook Inlet, where you can fish for Chum Salmon, Sea Run Dolly Varden and Silver Salmon. As always, a guide will accompany you on this trip to ensure your success. In late July and early August, these fisheries get less fishing pressure when Chum Salmon and Arctic Char are returning. By mid-August, Silvers begin to overtake these streams and they become the prime targets until the runs taper off in late September. These clear water fisheries often provide superior angling on a fly or spinner. This is also an excellent place to view wild coastal brown bears in their natural habitat. Our remote Fly In fishing trips will provide cherished memories that will last forever.
Wheeled Plane Fly In Fishing Pricing
$501 – Includes $6 Park Fee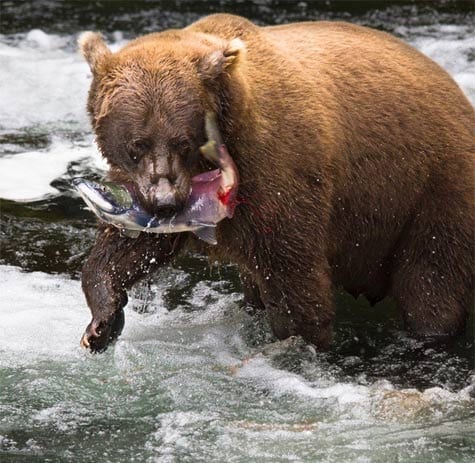 Russian River Hike In Alaska Fishing Trip
The Russian River is a great place for targeting Rainbow and Dolly Varden on the Fly.  It is a clear water stream that that flows quietly through the Kenai National Wildlife Refuge.  It is easy to wade and can provide amazing action for mid size Rainbows and Dollies. It is recommended that you have breathable chest waders for this trip.  Fishing opens on June 11th and can be steady until September.  Brown Bear spotting is a real possibility on this guided trip as the waters are full of Sockeye Salmon all season.
Russian River Hike In Fly Fishing Trip
Self Guided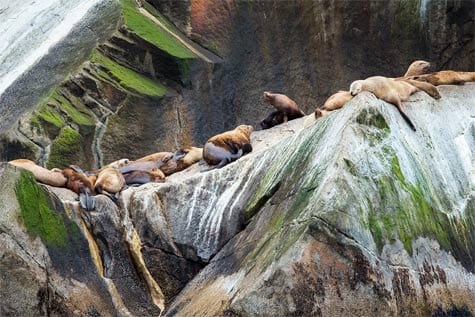 KENAI FJORDS CRUISE
This popular trip departs from Seward and cruises through Resurrection Bay and the Kenai Fjords National Park – 580,000 acres of spectacular coastal wilderness. You will see glaciers and wildlife, such as Humpback Whales, Sea Lions, Puffins, Eagles, Sea Otters, Dolphins and occasionally Orcas (Killer Whales). This is truly one of the most stunning places on earth. If you would like to fish while in the awe inspiring setting of mountains, rock cliffs and glaciers, we will help you to catch Halibut, Salmon, Sea Bass and Lingcod for an additional charge. Be sure to pack a lunch, it's a long day.
RIVER RAFTING FLOAT TRIP
This scenic float trip takes you from the headwaters of the Kenai River and through the calm waters in the mountains of the Kenai National Wildlife Refuge. Be on the lookout for Moose, Bear, Bald Eagles, Loons and various waterfowl. This trip may be taken in a "Drift Boat" for an additional charge if you would like to fish along the way for Dolly Varden Trout, Sockeye Salmon or Trophy Rainbow Trout.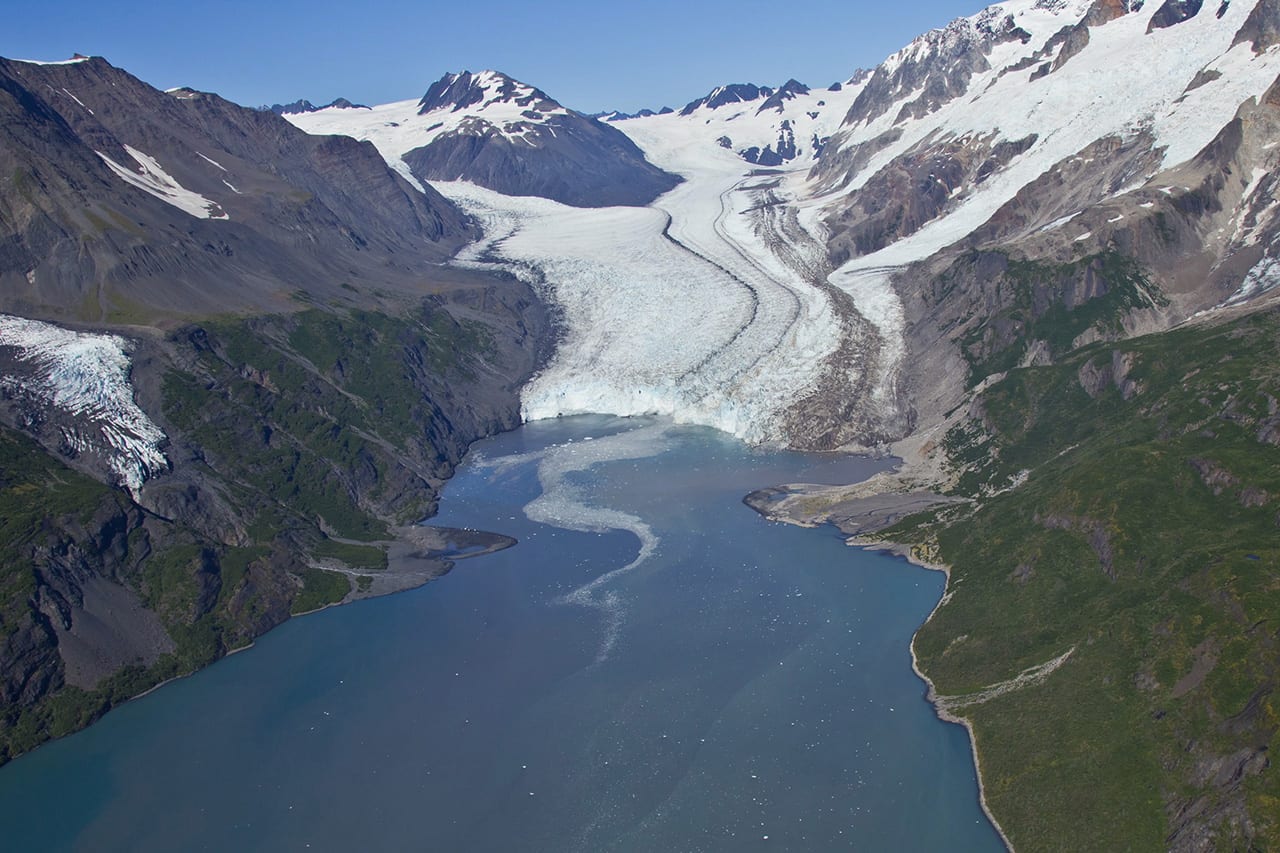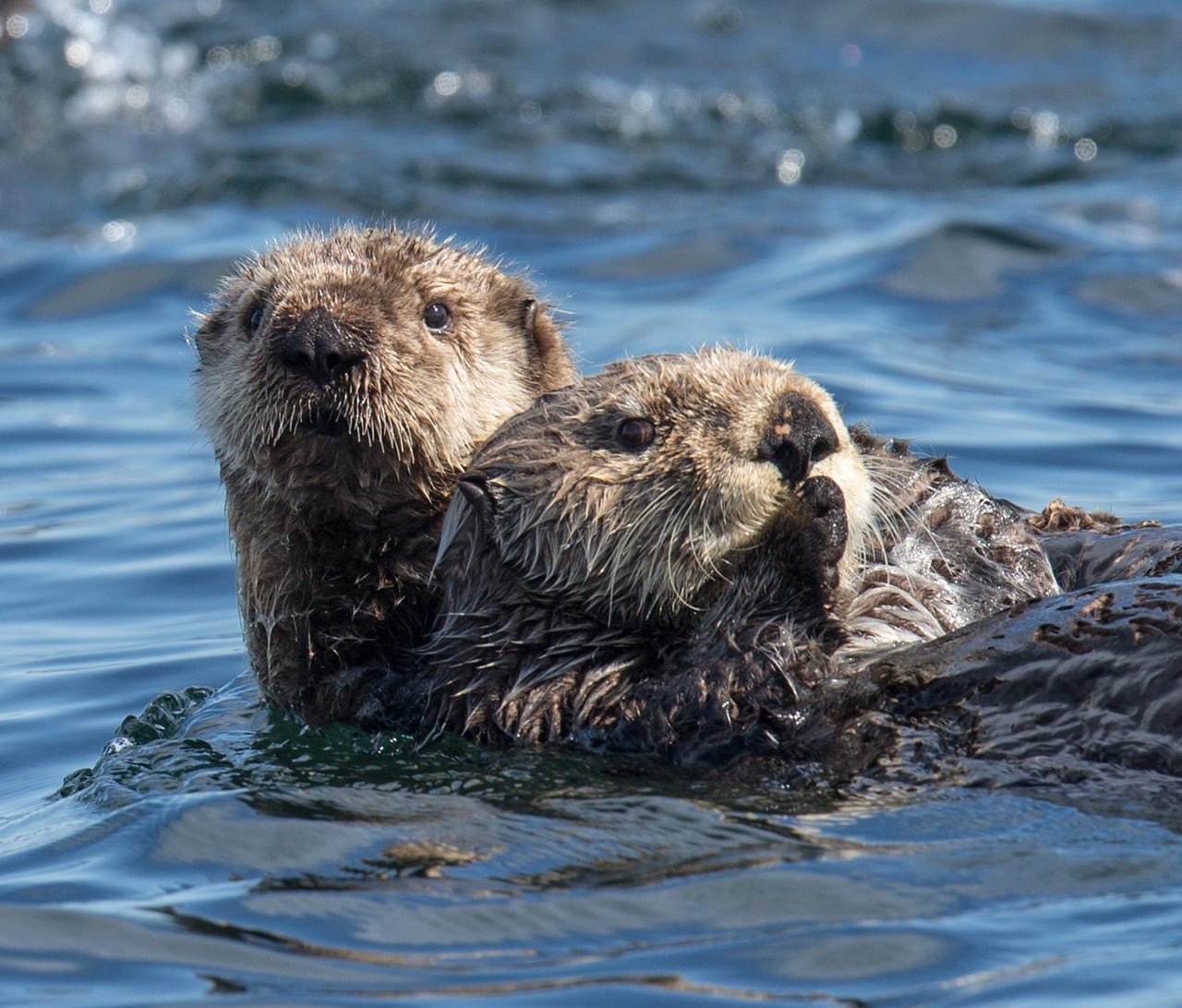 Other Trips!
FLIGHTSEEING TOURS: See the area wildlife, the Harding Icefield or possibly Mt. McKinley
GOLF: We have 2 golf courses within 30 minutes of our lodge that rent clubs at very reasonable rates.
HORSEBACK RIDING: Take a day trip into the Chugach National Forest or ride along the Cook Inlet Shore
KAYAKING TOURS: See either Kachemak Bay or Resurrection Bay – both are spectacular!
BIRDING: Some species many would consider "lifers" could be found here.
DOGSLED RIDES: Cuddle Alaskan husky and sledding puppies while learning about their life & sport!
EXIT GLACIER: Visit Exit Glacier – one of the few glaciers we can still 'walk right up to'.
HIKING: We have numerous guided or unguided hikes ranging from "Easy" to "Severe" in difficulty to see beautiful waterfalls or mountain lakes.
SHOPPING: Of course! Visit the artists and craftsman's galleries – no guides necessary!
Visit Dick Proenneke's Cabin On Twin Lakes Alaska
One of the most amazing and cherished experiences available on the Ultimate Expedition Alaska Fly In Fishing Trip is the opportunity to visit the famous Twin Lakes cabin built by Master Craftsman Dick Proenneke. The Proenneke cabin is a historic site available on our Lake Clark National Park venue Ultimate Expedition. The video provided below should help generate interest in visiting this amazing place.  Dick Proenneke was a man of many talents and a skilled outdoorsman. He built this cabin in what is now Lake Clark National Park, by himself, with hand tools, from materials available on site in a single summer. He then lived in it by himself for over 30 years. He survived off of the land. Prior to his death, he donated the site to the park and it was made a National Historic Monument. It now sees over 1000 visitors year.  All Alaska Outdoors Lodge has been taking guests to this site for nearly 20 years. Our guests are always amazed and grateful for the opportunity to visit this beautiful place. The site is staffed by park volunteers and rangers who assist in touring his home and providing insight into the way Dick Proenneke lived. Kay and Monroe are two of the individuals providing these tours for many years, and both knew Dick personally. The site was probably made most famous by a movie frequently seen on public television. The name of that movie is "Alone in the Wilderness". It was adapted from a book written about Dick Proenneke's first year of life at Twin Lakes, entitled "One Man's Wilderness". Both of these resources outline his construction of the cabin and what life was like that very first year.
We hope you enjoy the video we've made from the photos and footage from our many trips over the years, and trust that it will inspire you to visit this great land and magnificent place on our premier trip, the Ultimate Expedition.  And the best news, this historic site is a very short distance from some of our favorite Summer fishing spots and Ptarmigan covers.
I would like to send a special thanks to two of my favorite people in the world, Les and Cindy Robbins.  Les is a professional photographer. He and his wife, Cindy have probably been on over 30 Ultimate Expeditions with all Alaska Outdoors Lodge. He was moved to produce this video on his own, because he considers a visit to Dick Proenneke's cabin at Twin Lakes in Lake Clark National Park to be such a special experience. More of his amazing work can be viewed at Greatlandphotography.com