As soon as you arrive at All Alaska Outdoors Lodge, you'll see what makes this incredible state so different from anywhere else in the world. An absolute dream for any angler, the land surrounding our lodge is home to a gorgeous lake and crystal-clear, snow fed streams. Landscapes like this are part of why Alaska is such a fishing paradise, and why anglers from all over the world envy the fish populations found here. And of course, the deep waters of the Cook Inlet and the Pacific Ocean offer incredible fishing opportunities as well.
What Can You Catch in Alaska?
Freshwater fly fishing in Alaska is largely unrivaled throughout the world. The beautiful streams, lakes, and rivers found here are home to incredible Rainbow Trout, Lake Trout, Dolly Varden, Grayling, and much, much more. As far as freshwater fishing is concerned, there may be none more legendary than the 30-50 lb King Salmon found in the Alaskan Salmon Runs.
For those more interested in fishing in the deep salt waters of the coast, you can catch a boat from the nearby towns of Seward or Homer and try deep-sea fishing for massive Ling Cod, Rockfish, Halibut, and more. You may also come across orca or humpback whales, sea lions, and puffins.
The Ultimate Expedition Alaska Fly-In Fishing Trips
No trip to "The Great Land" of Alaska is complete without one of our incredible guided Fly-In Fishing Trips. These trips are more than sight-seeing and fish-finding: they're a once in a lifetime experience. We'll take you over rugged mountains, past active volcanoes, and next to spectacular glaciers in search of different fish populations.
We know when and where the best fish can be found throughout the year, so you can be sure that you're given the best opportunity to catch what you're looking for. Also, due to the nature of remote travel and fishing, there's always a possibility of encountering other wildlife — including brown and black bears! These Fly-In Fishing Trips are truly an outdoorsman's dream come true, so book yours today.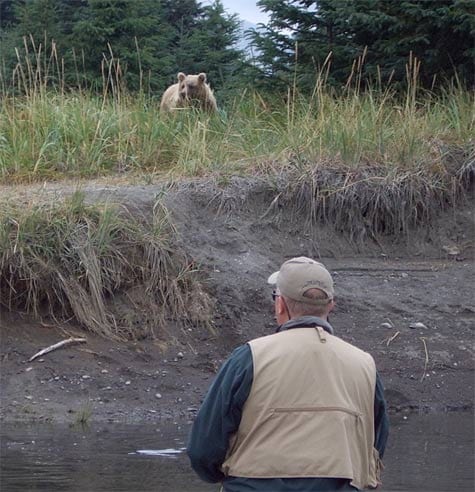 Wheeled Plane Fly-In Fishing
Later in the season, between August and September, we offer guided fly-in fishing trips with our wheeled planes to the West side of the Cook Inlet. These trips take you from Soldotna to remote beaches that offer access to Chum Salmon, Sea Run Dolly Varden, and Silver Salmon. These waters offer great fishing on the fly or spin rod. For a bonus, the coastal geography is often visited by native brown bears.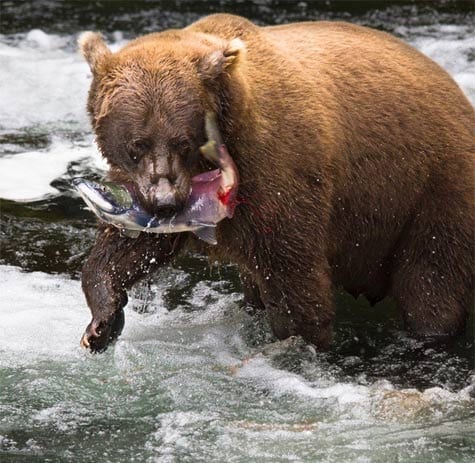 Russian River Hike & Fishing Trip
The Russian River is a clear water stream that flows quietly through the Kenai National Wildlife Refuge. The river offers amazing action for mid-size Rainbows and Dollies, and it's easy to wade (we recommend breathable chest waders). Fishing opens for the hike-in trip on June 11th and stays open until September. Guided and self-guided trips to these Sockeye Salmon inhabited waters are available. Please remember, the presence of brown bears is a real possibility on this trip.