2018 was another great year at All Alaska Outdoors Lodge. We truly saw some of the best saltwater fishing that we have seen in over a decade. Kenai River King Salmon and Red Salmon returns were poorer than we would have hoped, and we had some fishing restrictions, but we worked hard to be flexible and changed trips, when necessary to target what was working and open.  Thankfully, the Float Plane Alaska Fly In Fishing Trips were amazing, with the highest Red Salmon returns we had ever seen. The Fly In Fishing for Silvers was also excellent on these trips. Kenai River Silver Salmon were very solid this year, similar to 2017 after a somewhat slow year in 2016. The Ultimate Expedition trips went very well again this year. We showed our guest unforgettable experiences day after day. Bay of Pigs Silvers were excellent again with the highest returns of these big fish, we have ever seen. Weather was a little less than optimal in May and June with a lot of low overcast and some rain, but improved some in July and was good in August and September. Ptarmigan have returned at traditional high levels. Truthfully, these last two years numbers appeared about as high as I've ever seen them in my 25 years of hunting the Kenai Peninsula, the west side of Cook Inlet and in Lake Clark National Park.
Bob Ledda – President All Alaska Outdoors Lodge
Come and experience the most versatile array of angling and outdoor pursuits available in South Central Alaska. All Alaska Outdoors Lodge offers Deluxe Suite accommodations suitable for the single outdoorsman or larger groups. Our 4 acre facility is located on a road accessible float plane lake 21⁄2 Hours drive from Anchorage on the Kenai Peninsula. We can put you into the thick of the July Kenai King run or take you over spectacular glacier-filled mountain ranges to remote secluded fishing waters for Salmon, Rainbows, Pike, Grayling, Lake Trout and Char. Our "On-site" staff will be there to tend to your daily needs and provide the most professional handling of your catch. Deciding to stay with All Alaska Outdoors shouldn't be a tough decision; deciding what you will do during your stay with us might be. We offer a wide assortment of expertly guided activities. You may choose one of our preplanned packages or customize the exact week that you want. All Alaska Outdoors offers a wide range of "optional" fishing and wilderness trips. Consider us as a "base of operations" for remote fly in wilderness fishing on a day-to-day basis while still enjoying the luxury of our lodge and the convenience of its location on the Kenai Peninsula, 2 hours drive from Anchorage, Alaska.
All Alaska Outdoors has a dedicated guide staff with years of experience fishing the Kenai River. Our custom 20-foot, four-stroke powered river boats will put you in the thick of the "Runs" whether you're seeking Trophy Kings, Sockeye or Silver Salmon or Giant Rainbows. Our guides will provide you with "Top of the Line" equipment to land your catch. You just need to come and enjoy yourself. We offer 5 and 1⁄2 hour trips where you may target one species. For the diehard angler we offer 9 hour trips that you can spend targeting Monster Kings or combine Kings or Silvers with Sockeyes or Rainbows depending on the timing of your stay.  We will make every effort to catch you that trophy you're looking to land. Keep in mind that occasionally we may not be able to target your first choice of species due to water conditions, run strength or fishery closure. We can promise that our guides will do everything they can to ensure you have a successful trip.
$200 p/p 5½ Hr River Trip
$375 p/p 9 Hr. River Trip
Kenai King Salmon runs come in three distinct phases. The May run is low in numbers but receives the least fishing pressure and by mid-May fishing can be very good. Fish tend to run 30 to 50 pounds but remember the world record King Salmon was caught on May 17th so the big guys are out there! The June run has good numbers of fish in the 15 to 40 pound range with the occasional 50 to 70 pound class fish. During May and June, only fish under 36 inches are allowed for retention, but the run strength is constantly evaluated by the fisheries managers, and liberalized when appropriate.  July is the time when the largest number and largest average size fish return. All Alaska Outdoors anglers have landed fish in the 80 pound class in past seasons in July. This is your best chance to catch a fish over 50 pounds. The biggest fish often return early with the best numbers usually arriving from the middle of the month to the end.
Kenai River Rainbows are the ticket to fast fishing action from mid June through September.  All Alaska Outdoors anglers have landed fish in the 20 pound range with fish over 10 pounds fairly common.  The best rainbow fishing generally occurs from the opener on June 11th thru early July and in September. This is a strictly catch and release fishery. We can arrange for light tackle spin-fishing or fly-fishing depending on your preference.
Kenai Sockeyes return in good numbers by early July and remain fishable for 3-6 fish limit catches depending on run strength (the escapement is usually over 1 million fish) through early August. These are acrobatic reel-smokers that are the most valued Alaskan salmon on the table.  This is our Ace-in-the-Hole Alaska Salmon Fishing for those times when river conditions, escapement or fishery closure limits targeting other species. This is the fastest way to fill that fish box with prime salmon fillets!
Kenai River Silvers provide great sport on light tackle during August and September. Silver Salmon are famous battlers and aggressive biters. The current daily limit is two fish in August and three fish in September. Limit catches are the norm and at times the fishing is good enough to allow for some catch and release Alaska Salmon Fishing before you keep your last fish.
Current Halibut limits are 2 fish per angler with a 5 fish possession limit.  Each day, you may catch one fish over 29 inches and one 29 inches or smaller.
Deep Creek Halibut Fishing Trip
Deep Creek Fishing is reliable right from the start in May with our King/Halibut combos. Fishing is available from May through Labor Day weekend. We will carefully plan your trip for the best tides available during your stay if you wish to target Giant Halibut. We launch boats into the surf so this trip tends to be a little more likely to be cancelled due to weather.
$285 p/p Halibut Trip – Deep Creek
Multi Species Deep Sea Combo  Seward, Alaska
Full day fishing out of Seward can provide amazing fishing and heavy ice chests stacked high with fillets.  Seward is an amazing coastal fishing town with fantastic views and fine dining with a humble quaintness you won't forget.  May and June fisheries target Halibut, Rockfish and Kings. July 1st is the opening day of Ling Cod season. Shortly thereafter Silvers can be added to your quarry. Late July and August gives you the best chance to complete the Grand Slam by limiting on Halibut, Rockfish, Ling Cod and Silvers.  Wildlife viewing of Orcas, Humpbacks, Sea Lions, Sea Otters, Black Bear, Goats and Puffins are a real possibility on your trip.
$390 p/p Multi-species Deep Sea Combo Seward
Multi Species Deep Sea Combo  Homer, Alaska
Full day fishing out of Homer can provide amazing fishing and heavy ice chests stacked high with fillets.  Homer is an amazing coastal fishing town with fantastic views and fine dining with the second longest spit on the planet.  May and June fisheries target Halibut, Rockfish and Kings. Shortly thereafter Silvers can be added to your quarry. Wildlife viewing of Orcas, Humpbacks, Sea Otters, and Puffins are regularly seen.
$390 p/p Multi-species Deep Sea Combo Homer
All Alaska Outdoors Fly Fishing Lodge offers many different trips for the Fly Fisherman. Our Kenai River Alaska Fishing Trips can be utilized to fly fish for trophy Rainbows and Dollies. The Upper River Drift is an excellent choice for Rainbow and Dolly Fly Fishing and Sockeyes or Silvers can be targeted as well depending on the Time of year. We have many Fly In Fishing destinations that offer excellent Fly Fishing for Rainbows, Dollies, Lake Trout or Grayling. The Bush Plane Fly In Fishing Trips we offer can put you in excellent position for high volume Sockeye or Silver Salmon Fly Fishing. The Ultimate Expedition, One on One Super Cub Excursions and the Wheeled Plane Fly Ins are the Premier Fly Fishing Trips. They can target Rainbows, Grayling, Lake Trout, Pike, Dollies, Char, and all 5 Species of Pacific Salmon depending on the timing of your stay with us.
All Alaska Outdoors is the perfect location for that week of Alaska Fly Fishing customized to meet your specific needs and budget.  We offer Kenai Peninsula road accessible fisheries, single location guided drop off Alaska Fly In Fishing Trips and exclusive remote all day Fly In trips. Stay with us in our spacious, lakefront suite accommodations and schedule the exact itinerary of fly fishing trips that you want.
Upper Kenai River Drift Alaska Fly Fishing Trip
The Upper Kenai is a beautiful section of river from Kenai Lake down to Skilak Lake. This stretch of river provides world-class Alaska Fly Fishing as its turquoise waters wind through the majestic Kenai Mountains. Kenai River Rainbow and Dolly Varden fishing opens June 11th and continues into October. Fishing is done from drift boats, which will transport you quietly through the emerald waters of the Upper Kenai as it drains through a mountain valley to Skilak Lake. As you drift down the river, you will most likely see eagles soaring above the treetops and Dall sheep picking their way along the mountainsides. Fly-fishing is effective. An 8 wt. Fly-rod is ideal. Rainbows over 10 pounds are a real possibility though most fish will be 1-5 pounds. Fishing for Sockeye Salmon is good to great from June 11th until the end of July! Silvers will be available later in August through September and will often take flies. You are welcome to keep your three-fish Sockeye limit or two-fish Silver limit, though the Rainbow and Dolly fishing is strictly catch and release.
$285 p/p – Full Day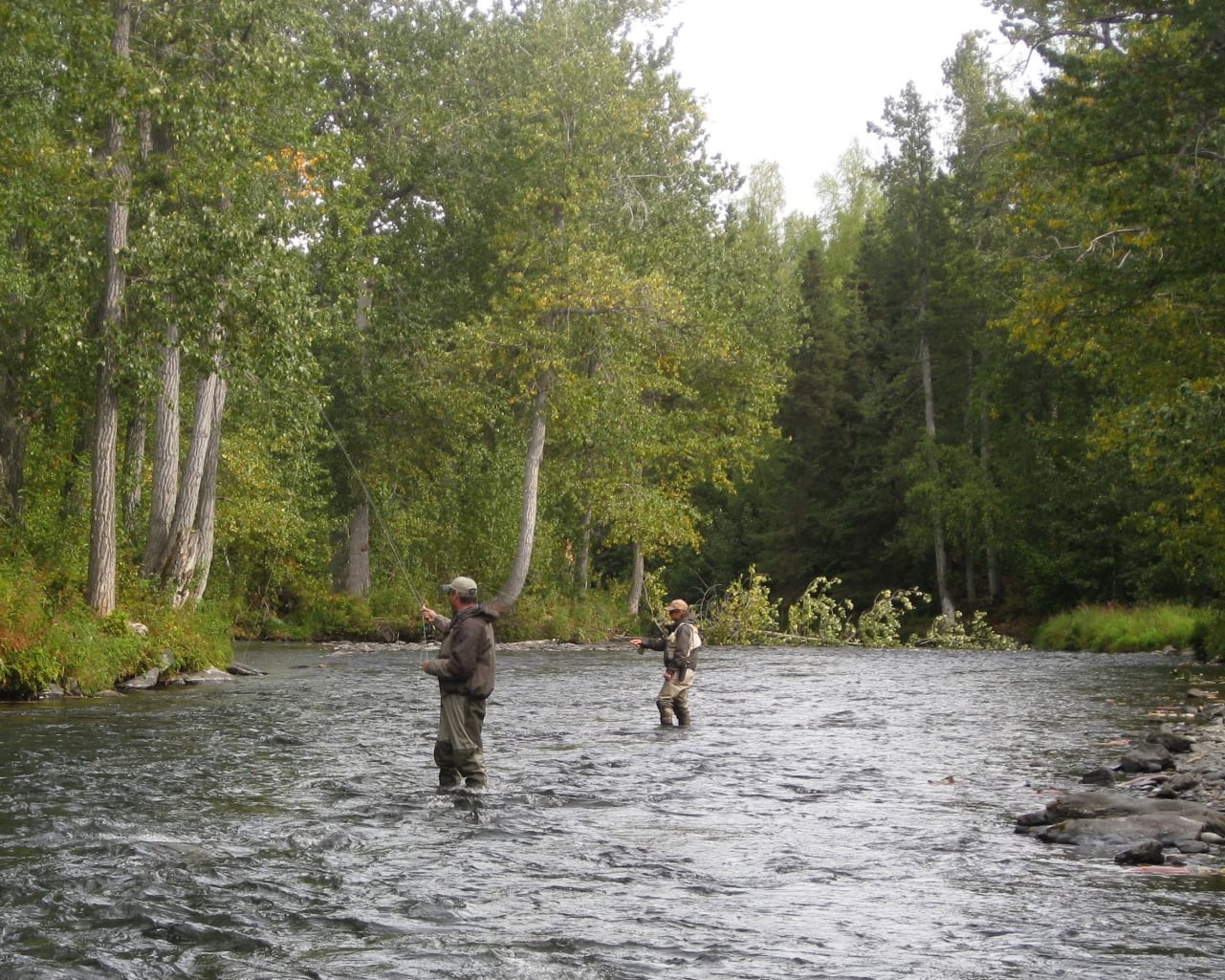 Russian River Hike In Alaska Fishing Trip
The Russian River is a great place for targeting Rainbow and Dolly Varden on the Fly.  It is a clear water stream that that flows quietly through the Kenai National Wildlife Refuge.  It is easy to wade and can provide amazing action for mid size Rainbows and Dollies. It is recommended that you have breathable chest waders for this trip.  Fishing opens on June 11th and can be steady until September.  Brown Bear spotting is a real possibility on this guided trip as the waters are full of Sockeye Salmon all season.
Self Guided
Our Alaska Fishing Lodge offers fly in fishing packages to meet your every need.  All Alaska Outdoors fishing lodge invites you to experience fly in fishing from our lodge. Relax in luxurious lodge and cabin accommodations while you enjoy the wide array of activities available on the Kenai Peninsula or fly to multiple different locations with one of our Alaska Fly In Fishing Trips. We have 2 wonderful living settings for our guests; our main lodge, which overlooks Longmere Lake and our new cozy comfortable cabins, nestled in the woods for additional privacy. All of our suites and cabins are nonsmoking and have a fully equipped kitchen.
The Ultimate Expedition Alaska Fly In Fishing Trips
Alaska's best fly in fishing trips! Don't leave Alaska without understanding why it is revered and named "The Great Land". You must spend a day with us flying away from civilization to where there are no roads. Keep your cameras handy on this quest to experience the true magnificence of Alaska that few have known. We will fly over rugged mountains, past active volcanoes and next to spectacular unnamed glaciers peering down into these mountains of blue ice.
In pursuit of different species of fish, we will fly across the tundra, landing in different remote rivers and lakes to catch Alaska's famous migrating Salmon, Dolly Varden, Lake Trout, Grayling, Northern Pike and Trophy Rainbow Trout. This is more than just an Alaska Fly In Fishing or sight seeing trip. Your group will fly in our newly refurbished Dehavilland Beaver, each member of your party with their own headset. You may talk with each other or listen to your pilot guide narrate your amazing journey.
We would be honored if you would allow us to share with you the Alaska that we love in the hope that you will feel the exhilaration while being humbled by experiencing the vastness of our last frontier.
Favorite venues for May and June include fly in lake fishing for giant trophy Northern Pike and clear water stream and lake fishing for Grayling, Lake Trout and Char. Late June and early July anglers may fish for Sea Run Dollies and Salt Water Sockeyes combined with Grayling or tiny stream Rainbows. You may want to experience Grayling, Lake Trout and Char fishing in Lake Clark National Park. Mid August and September offer Silver Salmon fishing at the incomparable "Bay of Pigs" where HOT action on 12-18 pound Silvers on fly or spinners is common.
$800 per person  We will combine parties of 1, 2 or 3 persons with other small groups  $700 per person –  Party of 5 (total weight of passengers must not exceed 1000 #)
ONE ON ONE SUPER CUB EXCURSION
The most amazing trip that All Alaska Outdoors has to offer.  Everything that the Ultimate Expedition is from the rear seat of the glass cockpit of the Super Cub.  Amazing Flight seeing and wildlife viewing with the option to hit certain spots that all other aircraft just can't access due to the Cub's amazing short take off and landing capabilities. Plus, One on One guiding so no one else to share the fish/birds with. Special small water rainbow spots and some silver fishing resources that are just amazing.  The Bachata river in August is incredible for the number of Silvers that can be landed in a single day as as wave after wave of fish surge on the incoming tide. In August and September a full day sampling all of the Wheeled plane Fly Out destinations can be had, cherry picking the spots with the least pressure on any given day. Want to catch 100 grayling on a dry fly-can do. Or be by yourself, catching giant pike on a fly in early June. Of course, in Late August and September you can always have Jay take you to the Bay of Pigs for giant Silvers, but having an exclusive experience at that spot just doesn't seem fair to the rest of the angling world.  Seriously think about this one, you won't forget the experience!
$1,000
WHEELED PLANE ALASKA FLY IN FISHING
During the August and September time frames, we provide the opportunity for remote fly in fishing to streams on the West Side of Cook Inlet, accessed by wheeled planes landing on the remote beaches. You will fly from Soldotna to the western shore of Cook Inlet, where you can fish for Chum Salmon, Sea Run Dolly Varden and Silver Salmon. As always, a guide will accompany you on this trip to ensure your success. In late July and early August, these fisheries get less fishing pressure when Chum Salmon and Arctic Char are returning. By mid-August, Silvers begin to overtake these streams and they become the prime targets until the runs taper off in late September. These clear water fisheries often provide superior angling on a fly or spinner. This is also an excellent place to view wild coastal brown bears in their natural habitat. Our remote Fly In fishing trips will provide cherished memories that will last forever.
$550-$625 (depending on location) p/p
Float Plane Fly In Fishing Trip
All Alaska Outdoors offers the experience of a single location float plane fly in fishing trip. Flying in a float equipped Turbine Otter or Caravan you will fly into the remote wilderness of South Central Alaska to fish. On about June 10th, our attention turns to Wolverine Creek and feisty Sockeye Salmon. You will be dropped off, with your guide, to fish from our boats at Wolverine Creek. This tiny, clear stream gets an average annual Sockeye return of 70-90 thousand fish, which makes for steady action and fantastic bear viewing. Coastal Brown Bear and Black Bear can be seen safely at close distances and the mountain scenery is breathtaking. This is an excellent trip for your Alaska Family Fishing Vacation as children are always amazed at seeing bears in close proximity. This fishery continues until late July when we start to see the return of Silver Salmon to this fishery and the Kustatan River. Once again, you will be taken by boat to the fishing grounds for some amazing Alaska salmon Fishing.  There, you will experience Silver Salmon on light tackle. If you prefer to fly fish then bring your 7-8 wt. fly rod along and you will likely experience an excellent day of sight fishing for 6-10 pound Silvers.
$395 p/p Float Plane Fly In Fishing Trip to Wolverine Creek or Kustatan
Call us or email to schedule that perfect, customized week of activities to suit your budget and desires.