All Alaska Outdoors Lodge: World-Class Fishing Destination
Right from our dock at All Alaska Outdoors Lodge, you can cast out a line and begin catching the finest fish you just won't find in the warmer streams of the lower 48 states. That's because, in Alaska, fish populations thrive and a rich tradition of fishing for sport and nourishment thrives along with them. From the lake right here on our property to crystal-clear, snow-fed streams to the deep, blue waters of Cook Inlet and the Pacific Ocean, the waters of Alaska are full of fish for the catching.
When you stay at All Alaska Outdoors Lodge on your fishing expedition, you can travel light. We'll provide you with top-of-the-line gear perfectly suited to the type of fishing you plan to do. And when you return with your catch, we can even prepare, package and store it — so you can bring the fresh flavor of Alaska home wherever home may be! Your fish will be professionally vacuum sealed and boxed in an airline-friendly package for the return flight. Or, send the folks back home your fresh catch gift via Fed Ex. All Alaska Outdoors Lodge is your full-service fishing headquarters in the Alaskan wilderness!
Bob Ledda – President All Alaska Outdoors Lodge
What Kind Of Fish Can I Catch In Alaska?
In the rivers, ponds, lakes and streams, some of the finest fly fishing anywhere in the world provides opportunities to catch Rainbow Trout, Lake Trout, Dolly Varden, Grayling, Silvers, Pike and Char. But the most ambitious anglers will surely be thrilled by the opportunity to fish the legendary Alaska salmon runs. In season, King Salmon range from 30-50 pounds on average with 70 pound specimens possible! Or, catch a boat from the port in nearby Seward or Homer and try deep-sea fishing for massive Ling Cod, Rockfish, Halibut and more. All while taking in stunning glacier views and likely spotting orcas, humpback whales, sea lions and even puffins. It's an angler's paradise at the All Alaska Outdoors Lodge.
Want to improve your skills and land some of the biggest, most exotic fish? Courtesy of Alaska Clearwater Sportfishing, you can enroll in our fly fishing school and learn how to select the right gear, get more bites and catch more fish — all safely and sustainably with respect for the environment. We'll help you land a catch you'll be proud of!
Call us or email to schedule that perfect, customized week of activities to suit your budget and desires.
The Ultimate Expedition Alaska Fly In Fishing Trips
Alaska's best fly in fishing trips! Don't leave Alaska without understanding why it is revered and named "The Great Land". You must spend a day with us flying away from civilization to where there are no roads. Keep your cameras handy on this quest to experience the true magnificence of Alaska that few have known. We will fly over rugged mountains, past active volcanoes and next to spectacular unnamed glaciers peering down into these mountains of blue ice.
In pursuit of different species of fish, we will fly across the tundra, landing in different remote rivers and lakes to catch Alaska's famous migrating Salmon, Dolly Varden, Lake Trout, Grayling, Northern Pike and Trophy Rainbow Trout. This is more than just an Alaska Fly In Fishing or sight seeing trip. Your group will fly in our newly refurbished Dehavilland Beaver, each member of your party with their own headset. You may talk with each other or listen to your pilot guide narrate your amazing journey.
We would be honored if you would allow us to share with you the Alaska that we love in the hope that you will feel the exhilaration while being humbled by experiencing the vastness of our last frontier.
Favorite venues for May and June include fly in lake fishing for giant trophy Northern Pike and clear water stream and lake fishing for Grayling, Lake Trout and Char. Late June and early July anglers may fish for Sea Run Dollies and Salt Water Sockeyes combined with Grayling or tiny stream Rainbows. You may want to experience Grayling, Lake Trout and Char fishing in Lake Clark National Park. Mid August and September offer Silver Salmon fishing at the incomparable "Bay of Pigs" where HOT action on 12-18 pound Silvers on fly or spinners is common.
Though the typical trip concentrates on remote fishing experiences, our venues almost always include incidental brown or black bear viewing, and for the adventurer, we can go out of our way to get up close to bears for the memories of a lifetime.
$875 per person  We will combine parties of 1, 2 or 3 persons with other small groups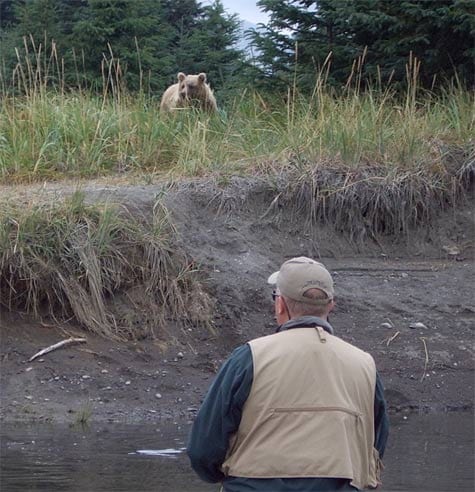 Wheeled Plane Alaska Fly In Fishing
During the August and September time frames, we provide the opportunity for remote fly in fishing to streams on the West Side of Cook Inlet, accessed by wheeled planes landing on the remote beaches. You will fly from Soldotna to the western shore of Cook Inlet, where you can fish for Chum Salmon, Sea Run Dolly Varden and Silver Salmon. As always, a guide will accompany you on this trip to ensure your success. In late July and early August, these fisheries get less fishing pressure when Chum Salmon and Arctic Char are returning. By mid-August, Silvers begin to overtake these streams and they become the prime targets until the runs taper off in late September. These clear water fisheries often provide superior angling on a fly or spinner. This is also an excellent place to view wild coastal brown bears in their natural habitat. Our remote Fly In fishing trips will provide cherished memories that will last forever.
Wheeled Plane Fly In Fishing Pricing
$501 – Includes $6 Park Fee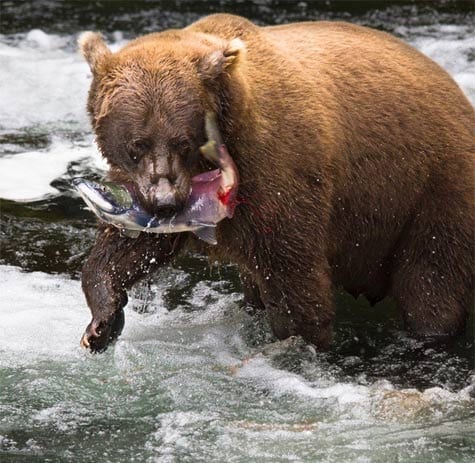 Russian River Hike In Alaska Fishing Trip
The Russian River is a great place for targeting Rainbow and Dolly Varden on the Fly.  It is a clear water stream that that flows quietly through the Kenai National Wildlife Refuge.  It is easy to wade and can provide amazing action for mid size Rainbows and Dollies. It is recommended that you have breathable chest waders for this trip.  Fishing opens on June 11th and can be steady until September.  Brown Bear spotting is a real possibility on this guided trip as the waters are full of Sockeye Salmon all season.
Russian River Hike In Fly Fishing Trip
Self Guided