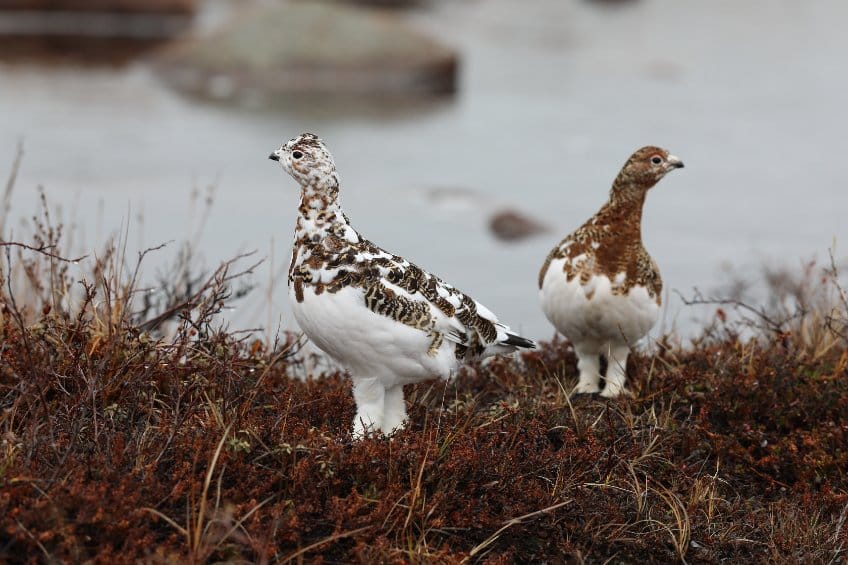 The Willow Ptarmigan Specie is a native Alaskan species favoring the wetter landscapes and more vegetive locations for breeding than the other Ptarmigan species. While tracking and hunting a Ptarmigan is the end goal, it is important to first understand what makes these species so special and vital to the Alaskan region. The Willow Ptarmigan are often found in the southeast region of Alaska and have the widest range of travel/migration out of all the Ptarmigan species. The largest of the three Ptarmigan species, the Willow Ptarmigan has a thick chest and wide bill differentiating it from the other species. From the tip of Alaska nearing the Bering Sea, to the Queen of Charlotte Islands, the Willow Ptarmigan travels and migrates to a wide range of locations across the continent. The Willow Ptarmigan prefers sparsely forested regions with willow-lined waterways, either on the coastal plains of western and northern Alaska or in subalpine areas throughout the rest of the state. Whether you're looking for Ptarmigan of a certain species, trying to hunt your first birds in Alaska, or perhaps looking for a father-son bonding activity, here at All Alaska Outdoors Lodge we look forward to helping you find a trip that matches your interests and offers you the experience of a lifetime!
All Alaska Outdoors Lodge
All Alaska Outdoors Lodge is proud to offer a wide variety of hunting trips tailored to every outdoorsman or women's interests. From Ptarmigan hunting, to fly fishing, and even bear viewing, the All Alaska Outdoors Lodge has a plentiful selection of outdoor activities to ensure the trip of a lifetime. Looking to go fly fishing with one of our experienced guides for sockeye salmon? We have that. Hoping to see large grizzly bears on our bear viewing ecotours? We have that. Looking to go ptarmigan hunting for willow, white-tailed, and rock ptarmigan in their native habitats? We have that too! The point is, All Alaska Outdoors Lodge has numerous incredible activities and guides ready to give you the trip of a lifetime. So don't delay, reach out today, and book your trip of a lifetime!