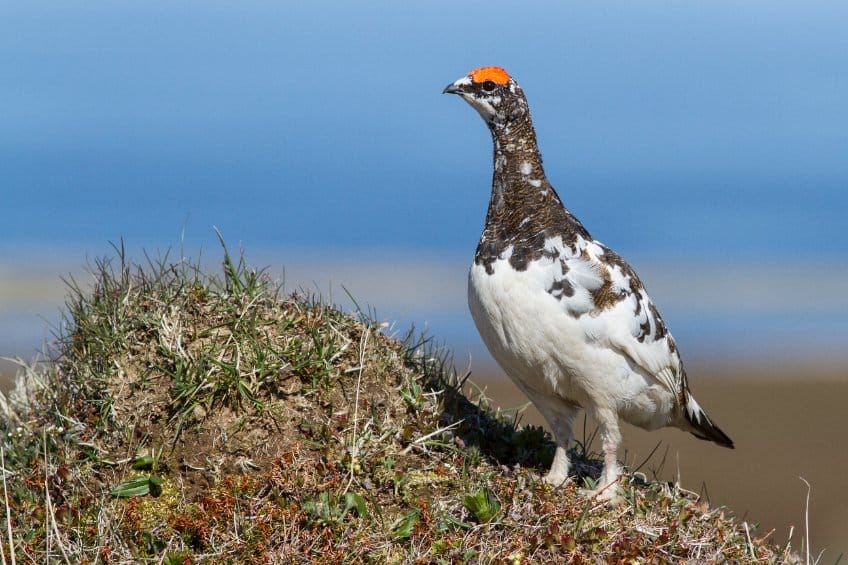 The rock ptarmigan hunting offered by All Alaska Outdoors Lodge is unequivocally the most rewarding experience in the Alaskan region! This gorgeous species of ptarmigan is found breeding on rocky or tundra terrain of Alaska. The rock ptarmigan species prefer drier and rockier terrain than their neighboring species of ptarmigan. However, they are oftentimes found in similar regions of the Willow Ptarmigan, as these areas are rocky, dry, and densely protected from predators. This mainly nomadic bird species offers hunters the experience of tracking and hunting throughout the Alaskan tundra that so many of us have dreamt of. Rock ptarmigan hunting is showing encouraging growth every year in Alaska. From the Bering Sea to the Queen Charlotte Islands, the opportunity to track and hunt a rock ptarmigan is plentiful in the Alaskan backcountry. In both the rocky terrains and open tundra regions, the Alaskan backcountry offers word-class ptarmigan hunting to all sportsmen. From their early winter plumage in October, to their brown summer feathers, the beauty of the rock ptarmigan species is breathtaking. The rock ptarmigan favors a higher elevation than its willow ptarmigan brothers; oftentimes in the midst of the hunt, we must remind ourselves to pause, take a deep breath, and experience the serenity surrounding us. So whether you have been after the rock ptarmigan for a long time, or are just hearing of them now, make sure to look through the trips that All Alaska Outdoors Lodge offers and give us a call for more information.
All Alaska Outdoors Lodge
All Alaska Outdoors Lodge is proud to offer a wide variety of hunting trips tailored to every outdoorsman or women's interests. From Ptarmigan hunting, to fly fishing, and even bear viewing, the All Alaska Outdoors Lodge has a plentiful selection of outdoor activities to ensure the trip of a lifetime. Looking to go fly fishing with one of our experienced guides for sockeye salmon? We have that. Hoping to see large grizzly bears on our bear viewing ecotours? We have that. Looking to go ptarmigan hunting for willow, white-tailed, and rock ptarmigan in their native habitats? We have that too! The point is, All Alaska Outdoors Lodge has numerous incredible activities and guides ready to give you the trip of a lifetime. So don't delay, reach out today, and book your trip of a lifetime!