All Alaska Outdoors Lodge is an angler's paradise. Situated on an incredible lake fed by crystal clear snow-fed streams and surrounded by stunning mountain peaks, this is a place where dreams are made real. This isn't your typical fishing at the reservoir outside of town. Here, we offer several remote, fly-in fishing trips and packages. These guided fishing trips take you deep into the Alaskan wilderness, and give you access to some of the most robust fish populations in the world.
Experience The "Ultimate Expedition" With Our Team
Alaska isn't called "The Great Land" for no reason, and there may be no better way to explore this land than with our fly-in fishing trips. These trips will take you over rugged mountains, past active volcanoes, and next to spectacular glaciers to get you close to the remote and robust fish populations that Alaska is so well known for among anglers.
We know when and where to take you to find incredible Salmon, Dolly Varden, Grayling, Northern Pike, and more. Depending on when in the season you visit us, we'll take you to the best fishing spots South Central Alaska. Also, due to the nature of remote travel and fishing, there's always a possibility of encountering other wildlife, like the native brown and black bears. Our fly-in trips are a once in a lifetime experience, so book yours today.
The Ultimate Expedition is the premier fly in fishing trip that we offer. On this trip the Plane, Pilot and Guide stay with you for the entire day. It is a multi location trip. The species we will target will vary depending on the season. At times limit catches of salmon will be available, though the gist of this trip is experiential, and it should not be booked with strictly catch and kill in mind. This is an excellent trip for those wishing to fly fish, whether experienced or not. Spinning gear will also be provided for those not wishing to tackle the task of fly fishing.
Parties of four or five will be exclusive to your group. (Parties of five will have weight restrictions of no more than 1000 pound total) parties of 1,2 or 3 persons will be combined with other small parties.
Float Plane Fly-In Fishing Trip
Our float plane fly-in trips are an excellent choice for a family vacation and anyone wanting to explore remote river fishing. Depending on what part of the season your trip is, our float plane can take you to either Wolverine Creek or the Kustatan River. From mid-June to late-July, the Wolverine Creek trips offer fantastic Sockeye Salmon fishing on this small, clear creek. This destination is great for children as there is a lot of wildlife to see including bear viewing from a safe distance.
From late July, great fishing can still be found in Wolverine Creek and things also start to pick up at the Kustatan River. This fishery offers incredible Silver Salmon fishing that you can catch with light tackle and spin rods. However, if you prefer fly fishing, just bring your 7-or-8 weight fly rod to enjoy a great day of fishing.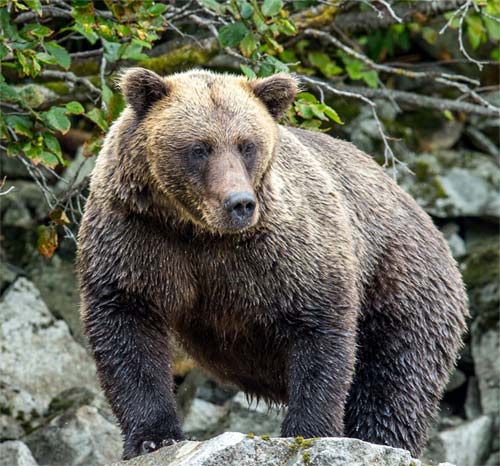 Crescent Lake Fly-In Fishing Trip & Bear Viewing
Crescent Lake is one of our favorite mountain lakes in Alaska. While it may well be one of the most beautiful places on earth, this lake also provides a healthy brown bear population and great fishing for Lake Trout. Later in the year, the fishing for Dollies and Silvers also makes this a popular Alaska ecotour package. You'll also have the chance to check out Alaskan brown bears, many with cubs, in comfortable eighteen-foot aluminum boats. This is one of the best trips we offer for Alaska bear viewing, and it's affordable!
Crescent West Fly In Pricing (August and September)