Exploring Lake Clark National Park with All Alaska Outdoors
Lake Clark National Park and Preserve is a dynamic and beautiful geographic region where you'll find all that Alaska has to offer. Giant volcanoes erupt from the coastal shoreline of Cook Inlet, still active and reaching heights of 10,000 to 11,000 feet above sea level. We fly by these very monsters on clear days when weather permits travel "over the top" to our favorite fishing holes on "the other side". We literally stare right at the smoldering volcanic cap and quietly pray that today is not the day.
The Alaska range is covered by glaciers, and the "passes" drain into a number of large, blue mountain lakes that support some of the region's most amazing salmon runs and resident fish. A portion of the park runs along Cook Inlet coastline receiving a river that drains one of our favorite fishing spots, Crescent Lake. This is one of the premier brown bear viewing venues and offers amazing fishing for Dolly Varden, Lake Trout and even some Silver salmon. Typically, the best timing for this trip is right in late August and September. Crescent Lake is a beautiful spot where I had my very first remote Alaska experience, complete with bears in camp and lots of fishing way back in 1986. It's why the Crescent West Fly In trip will always be one of my favorites.
Another coastal experience that allows for premier bear viewing, excellent Silver Salmon and sea run Dolly Varden fishing is the wheeled plane fly in to Silver Salmon Creek. This stream has about a mile of fishable tidal water where the bears do their own fishing. Fortunately, the fish are numerous. Here, you're fishing in the shadows of a couple of those giant volcanoes where the vivid green hillsides give way to the permanent snow cover at elevation.
When you really want to see Lake Clark National Park in all of its splendor, fly close to the volcanoes and right over the tops of the expansive glaciers that create these amazing waters, you'll want to do the Ultimate Expedition. This is an all day flying and fishing experience that keeps a deHavilland Beaver with your party for the entire day, allowing you to hop scotch from one fishing hole to another. The quarry will vary depending on the time of year, but the scenery will never disappoint. Fishing can be for Giant Northern Pike in early June, Grayling all year long, Lake Trout from start to finish and Arctic Char, which tends to improve as the season gets later. The fishing is certainly something to cherish, as these fish are rarely accessed by anyone that's not on one of our fly ins. But the land and the waters are the real treat on this day. Flying over the Alaska Range — or through it on the low weather days by using Lake Clark Pass — is a treat all by itself. Each place we stop will mesmerize with the blue glacial lake waters, and the clear streams that flow into them.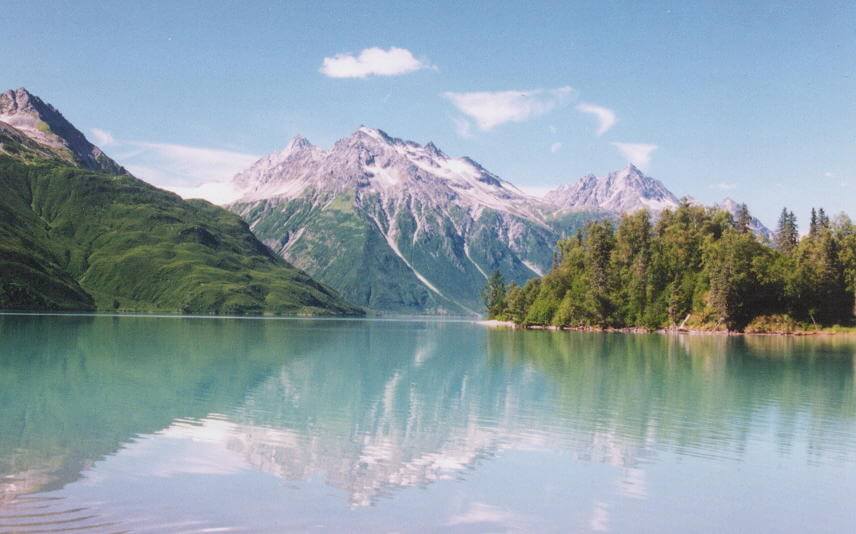 It's hard to pass up a stop to the famed One Man's Wilderness Cabin, the Dick Proenneke site. It is an unforgettable emotion to sit on the banks of Upper Twin Lake, and eat your lunch in front of his little home, just like he had done countless times in decades past. Just imagine standing on the banks of a beautiful mountain lake casting light spinners or sinking flies and pulling gorgeous Lake Trout out one right after another, or wading a shallow clear stream full of Grayling willfully taking flies in flurries that finds you standing there gawking. It's here that you'll feel the raw power of one of the world's greatest solitary ambush predators peels line from of your reel with it's frame exceeding 3 feet — a creature with a mouth so full of razor teeth, you wonder if wading makes sense. It's not long before you're ;looking down into the delicate pink dots behind the green head of the spawning Arctic Char, then up at the surrounding mountains, then back to the dot These are just some of the experiences waiting for you during the Ultimate Expedition Lake Clark National Park venue. Do let us share them with you.
Dr. Bob