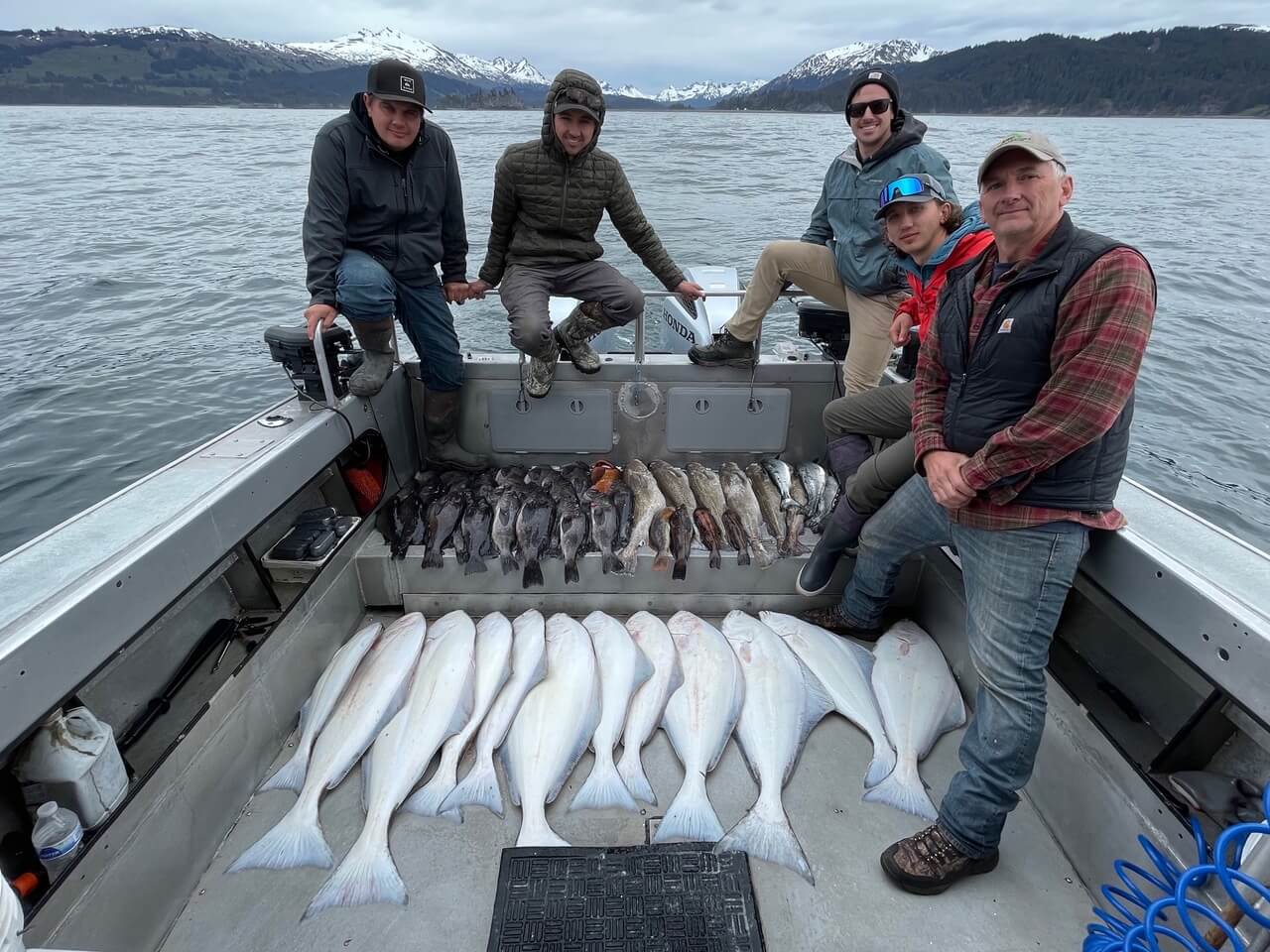 We generally start expecting to see some guests at the Lodge around the middle of May. Frequently, they will focus on the salt water fisheries concentrating on catching Halibut. This can be done at any of the three locations that we fish from, Deep Creek, Homer or Seward. Fishing from Homer and Deep Creek for Halibut only can be done with expectations of limit catches the norm.
Upgrading a saltwater trip to the Multi Species trip either out of Seward or Homer allows for targeting additional salmon species, (this time of year usually King Salmon) as well as the various rockfish species including Black Seabass and Yelloweye.
By the end of the month, the Ultimate Expedition all day Fly In fishing experience becomes a worthwhile trip. This is the best time of year to catch large pike, available both to fly fisherman and spin fishing. Combined with the excellent light tackle Lake Trout fishing and reliable Grayling Fishing, and the exploration of Lake Clark National Park with close-up views of the Alaska range, massive glaciers and aerial Bear Viewing makes this a day you will not forget.
King salmon fishing is open on the Kenai River this year in May. Retention is restricted to fish 34 inches and less. It can be a productive time of year as water is low and usually clear, which concentrates the fish, and angler effort is generally pretty sparse.
Our guides are capable of producing Sockeye Salmon limits in late May. The Russian River sockeye salmon run traverse is the main stream Kenai to reach that final destination. Though the region of the Kenai River close to the Russian and the Russian itself are closed until June 11, our guides are expert at intercepting those fish boluses as they head upstream.
I guess I wouldn't be covering all the opportunities if I didn't talk about just how good the fishing can be off the dock and in the lake. Longmere lake is a stocked lake. It has a healthy population of trout that reside around our dock due to careful planting of cover for their protection as well as a healthy diet of salmon eggs provided to the fish after we handle massive amounts coming through the Lodge fish processing operation.
At the end of May, not too long after ice out, the fish are very active and the larger fish are actually bedding down on the shoreline in spawning mode. They can be fun to target from our Mad River canoes available for your use. We have some light tackle spinning gear to loan, or bring your favorite 4 to 6 weight fly rod and a handful of trout flies and you're sure to have a blast.