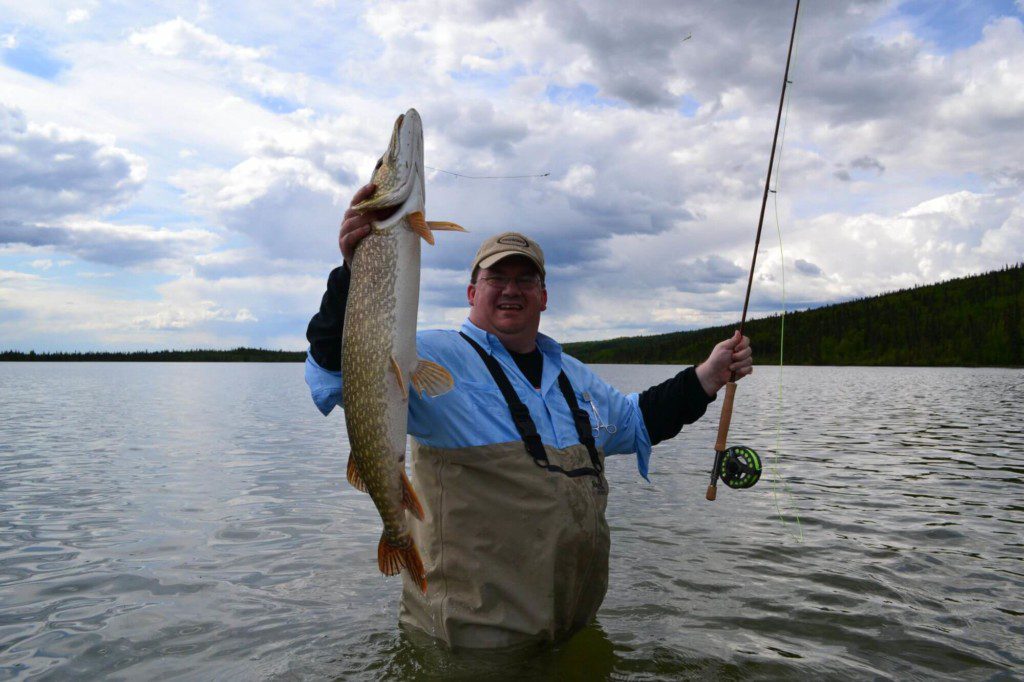 Northern Pike are one of my favorite species to pursue. I guess they take me back to my Texas roots of bass fishing. Both animals occupy a similar niche. They are solitary ambush predators. They are known for rapid acceleration, short endurance and a big mouth designed for feeding . Both species tend to be aggressive and are excellent quarry for the fly or spin fisherman.
One of my favorite fishing trips are the early runs over in the Lake Clark National Park on the Ultimate Expedition venue. We get some pretty big fish. The largest one I can recall a client landing was caught on a fly rod and was 43 inches and I'm sure it exceeded 25 pounds. Reliable fishing from late May through about June 20 for fish over 36 inches is the rule, and I pretty much expect a fish around 40 inches or a little bigger on every trip unless we just don't get lucky. Excellent Grayling fishing is accessible at the same time of year and it's also the best time of year for fishing for Lake Trout on the Ultimate Expedition. At this time of year, the large Pike are gathered together in shallow flats on spawning beds. They tend to be aggressively feeding as well. We have several lakes where large fish are known to congregate. Later in the year, once the water warms up these fish disperse and the big fish can be difficult to find. I do have some places where we can fish for hammer handles all the way to the end of the summer, but it's not the same as catching those big spawning pike off of the beds.
Fishing pike in July, August and September is not without its rewards. The action can be very fast. It can be a great opportunity to watch inexperienced anglers catch lots of fish. It can be an excellent source of early fly fishing success.
We really don't have any opportunities to target pike fishing other than devoting part or all of an Ultimate Expedition day to the task. All of the fishing is done in Lake Clark National Park and the experience can include a visit to the Proenneke Cabin site, fishing for Lake Trout, Grayling and Char.