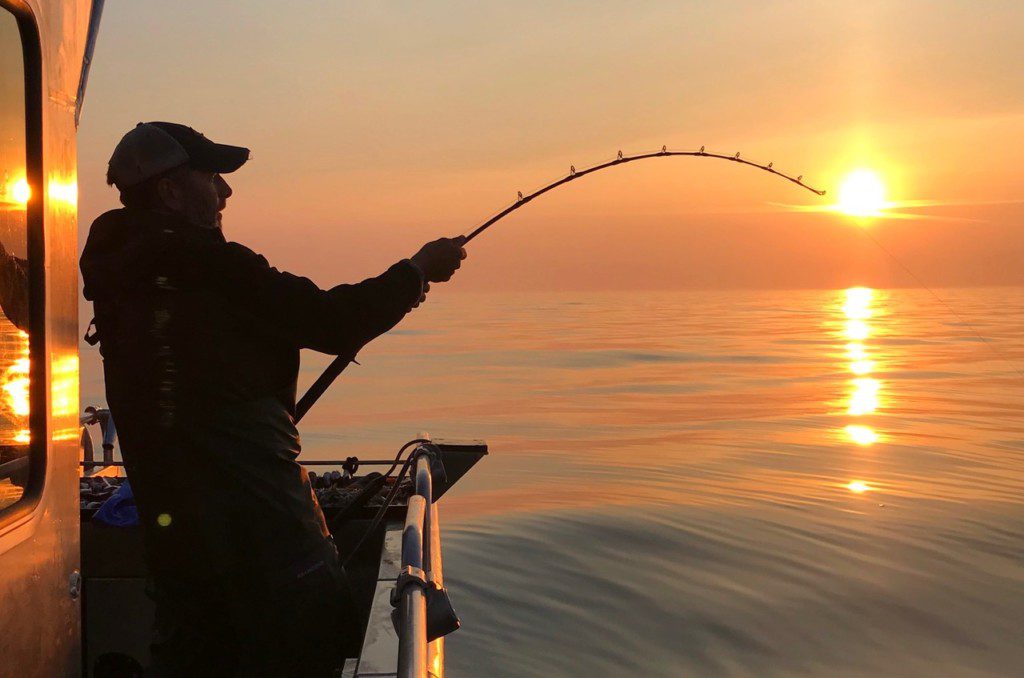 Halibut are available from the time we open the lodge in mid May through the end of September. On a guided excursion, you're allowed to keep one Halibut any size and one under 28 inches. This year there is no seasonal limit for retention of halibut. I don't guess there's really a peak time to fish for halibut, though playing the tides for smaller water exchanges (and we try to navigate this for you when we book your trip) can be helpful. The fish do move out a little ways in September and the weather can be a little sketchy, making a successful saltwater trip more of a challenge. After July 1, on a Multi Species trip you could also target Lingcod, another tasty white flesh fish that's about as ugly as anything you have ever caught. They happen to be my kids' favorites. We also target Rock Fish on the multi species trip and generally get easy limits of Sea Bass and occasional Yellow Eye. Add the potential for King or Silver salmon and it is easy to see why a multi species saltwater trip is the fastest way to make a heavy fish box.
In recent years, management decisions have resulted in less available charter captains. Boats are only allowed to take one trip daily. They've taken away all Wednesdays and some Tuesdays each season for guided anglers to fish with charter boat captains for halibut. This has created a supply demand issue with the resource. At times, especially if booking late in the year it may be difficult or impossible to obtain seats on a halibut or saltwater trip.
Area 3A (Southcentral Alaska)
Two fish daily bag limit: Charter vessel anglers may catch and retain two halibut per day.
28-inch maximum size limit on one fish: Charter vessel anglers may keep one fish of any size per day and one fish that is no more than 28 inches in length. The 28-inch maximum size limit allows anglers to keep a second fish that weighs approximately 9 pounds, round weight. Trip limit: Charter vessels may only take one trip during which charter vessel anglers retain halibut per day. Charter halibut permits may only be used for one charter halibut fishing trip per day during which charter vessel anglers retain halibut.
Wednesday closures: Charter vessel anglers may not catch and retain halibut (except GAF) on all Wednesdays for the entire season.
Tuesday closure: Charter vessel anglers may not catch and retain halibut (except GAF) on two Tuesdays in 2022: July 26 and August 2.
Depending on where you choose to fish from, at any given time on a Multispecies trip there will be a good chance of also capturing either silver salmon or king salmon. Kings are frequently available out of both Seward and Homer in May and June. Generally both locations will have decent silver salmon fishing beginning in July and extending through August and sometimes into September.
You may schedule a straight halibut trip out of any of the three locations, with both Homer and Seward offering the option of the Multispecies experience. The Deep Creek and Ninilchik locations require tractor launch. This can be caused for cancellation if the surf gets too big to safely launch the boats.
When considering your saltwater experience, keep in mind that due to the limited supply of available trips, if there is a cancellation due to weather it is very likely that you will have to accept a refund and will not be able to reschedule the trip during your stay with All Alaska Outdoors.