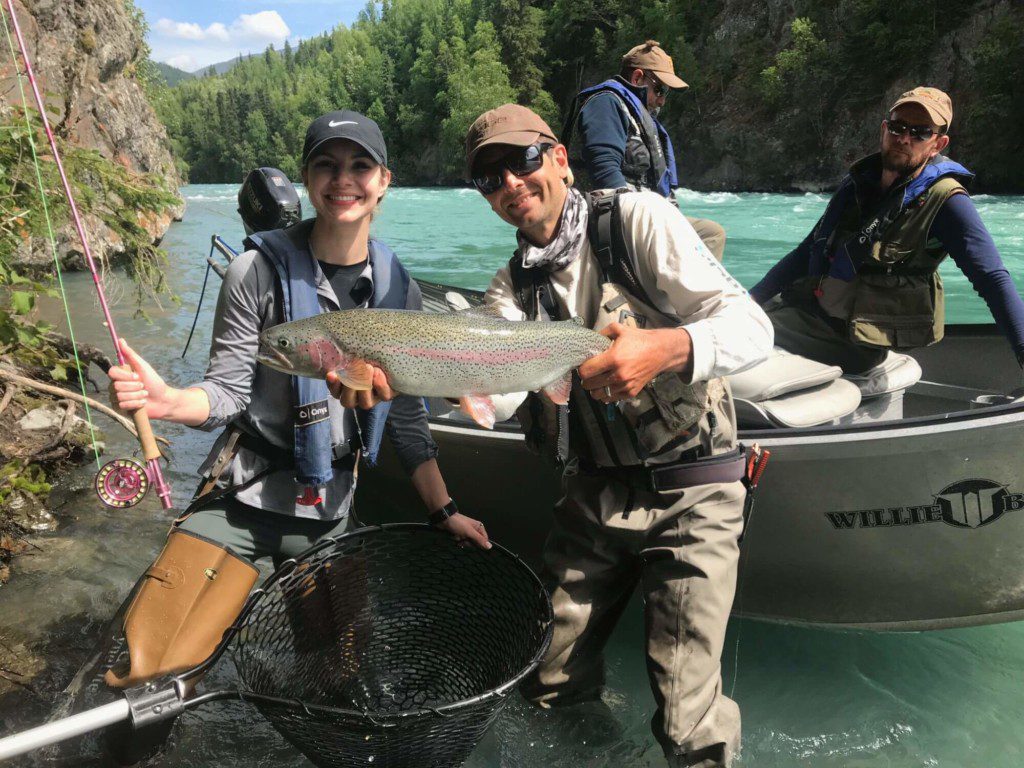 Obviously, Rainbow Trout are often a big target in Alaska. Especially for the fly fishing enthusiast. Certainly, our marquee trip here is with Alaska Clearwater Fishing and Captain Zack Waters and his crew. They provide all the fly fishing equipment and expert instruction for the novice and can really put the expert into some big fish when the conditions are right. Generally, you can expect the Upper River Drift to be a beautiful tranquil trip floating down the turquoise waters of the upper river, viewing the wildlife and surrounding mountains. The Rainbow Trout fishing opens on June 11 and it is generally pretty good right out of the gate. Fish won't be quite as big and hefty as they will be in September when they're feasting on salmon eggs and flesh to try to generate the mass necessary to get through a long, cold, dark winter. The trip is a nice one from the opener until the guides freeze up on your rods and it's time to put things away. Water conditions, the amount of food availability and fishing pressure obviously can have an effect on the quality of the experience and I would say the best time is the first two weeks of the season and then the month of September.
Our Kenai River trips can also be utilized to target Rainbow Trout in the lower river. Jim McCormick considers this his special forte. Like Monte, he is versatile in all things, Kenai River, but Rainbows are what he really lives for. Book a Full day charter, ideally with one or two additional anglers to allow for casting room and you will have a heck of a Fly Fishing Trip. In this situation, a powerboat is utilized which offers the advantage of running back upstream and making the same drifts over and over again hitting the best areas repeatedly. Alternatively, if you'd rather conventional fish for Rainbow Trout you can back troll small baitfish imitations. Rainbow Trout in excess of 30 inches are a real possibility, and fish in the 25 inch range are not uncommon at all.
Both of the trips described above are on the Kenai River, a very large river with fast current and the potential for big fish. Most fly fisherman with experience in these two venues would elect to use an eight weight fly rod. Floating line is typically used with long leaders, strike indicators and enough weight to get down to the deep spots to present most commonly a flesh fly or a bead imitating dying salmon or the future offspring. Occasionally dry fly fishing is possible, as we do get some pretty large Caddis and Mayfly hatches from time to time. The fish won't ignore a muddler minnow or a large stone fly drifted in the depths, but it can be hard to compete with all the flesh and eggs that occupy the river once the salmon cram their way in there.
There are a couple of opportunities to target rainbows on Ultimate Expedition trips. These are generally smaller streams with clear water. It is reasonable to target these fish with five and six weight rods. The typical locations require some hiking and anglers would need to be in decent physical condition if they want to invest some of their Ultimate Expedition experience hiking in to a remote, rarely fished stream for some rainbows.