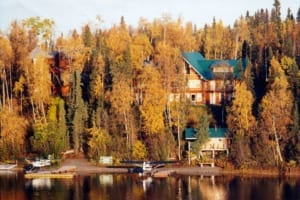 If you're eagerly looking for a memorable all-inclusive fishing excursion, there is no better wilderness on Earth than The Last Frontier. Look no further than the All Alaska Outdoors Lodge, one of the very best Alaska fly fishing lodges, on beautiful Longmere Lake. You won't have to look far for one-of-a-kind fly fishing opportunities here in Soldotna, Alaska, because the wonders of the far north will always be at your fingertips during your stay. Here are just some of the unparalleled amenities at All Alaska Outdoors Lodge.
High-Quality Fish Processing
One of the substantial perks here at All Alaska Outdoors Lodge is that all of our Alaska fishing packages include fish processing. The fish will be meticulously packaged and readily available to take on an airplane. All filleting, vacuum sealing, and freezing are complimentary, no matter which package you select, so you'll be able to enjoy your massive catches for months on end!
Deep Relaxation
After each memorable fly fishing adventure, enjoy every lavish amenity that All Alaska Outdoors Lodge has to offer. Our main lodge provides a stunning view of tranquil Longmere Lake, filled to the brim with colorful trout. You can choose a one or two-bedroom suite with an extra vanity. We also have secluded cabins in the nearby woods if you were hoping for a lovely, private escape. Each cabin has two bedrooms and two baths. If you're interested in historic cabins, we fly guests out to witness the famous Dick Proenneke Cabin in Twin Lakes.

Whether you choose a cozy suite or a deluxe cabin, each unit comes equipped with a full kitchen, dining area, and spacious living room. Enjoy the television and DVD player in your suite after a rewarding day in the Alaskan drink and browse with the free Wi-Fi. Don't forget to unwind in our lakeside log cabin sauna, an authentic wood-fired Alaska steam room. Every Wednesday, we provide a wild Alaska dinner to everyone who stays with us at absolutely no charge.
Alaska Fly Fishing Lodges
If you're searching for an unforgettable experience at one of the premier Alaska fly fishing lodges, look no further than All Alaska Outdoors Lodge. We provide world-class fishing, a convenient central location, and countless Kenai Peninsula wilderness activities. Give us a call at 1-907-953-0186 to learn more about our beautiful slice of Soldotna, Alaska, one of the salmon fishing capitals of the world.