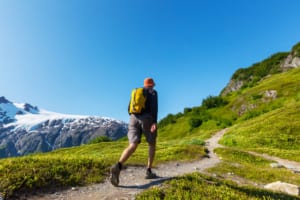 There's no denying the genuinely breathtaking natural beauty of Alaska's Kenai Peninsula nor the health benefits of backpacking through challenging yet rewarding terrains. Practice all-important health and wellness with half-day hiking excursions this summer during your once-in-a-lifetime fishing getaway to All Alaska Outdoors Lodge. Hiking in Alaska is equally beautiful, demanding, and unforgettable as you'll have the opportunity to visit some of the most beautiful places in Alaska. We've hand-selected three of our favorite self-guided hiking trails, all of which are less than a one-hour drive from All Alaska, one of the premier Alaska fly fishing lodges.
Skyline Trail – Hard
Let's start with an unquestionably challenging mountain hike: the three-mile out-and-back Skyline Trail. While the journey to the trail's peak is taxing, the jaw-dropping alpine views are worth every drop of sweat. Once you reach the pinnacle of this strenuous, steep trail, you'll be rewarded with grand views of Hidden Lake, Skilak Lake, and the snow-capped mountains of the Kenai National Wildlife Refuge. The downhill return to the trailhead will go by in a flash, but it can be demanding on your knees, so please take your time and admire the views. While this trail is beautiful during all seasons, there's something magical about the snow-capped mountains during spring and the fall color during autumn's peak. Hiking in Alaska doesn't get much better than the Skyline Trail!
Juneau Creek Falls – Moderate
Unlike the Skyline Trail, the best time to visit Juneau Creek is in the middle of summer. This 7.1-mile out-and-back hike is secluded and grossly underappreciated by locals. Pack a picnic and trek through the lush Kenai National Wildlife Refuge wilderness in search of the trail's apex: Juneau Creek Falls. During the summertime, giant mountains provide a backdrop for the gushing waterfall. The length of the path and its gradual incline make it a moderate hike, but none of our visiting anglers have ever had trouble finishing the hike. Keep your eyes peeled for rare birds (bring your binoculars), wild plant life, and occasionally bears near the falls.
Russian River Falls – Easy
One of the best aspects about the 5.1-mile out-and-back Russian River Falls trail is that it's a prime fishing locale if you're hoping to reel in sockeye salmon from late June through mid-September. You'll also see plenty of mid-sized rainbow trout and Dolly Varden in the river. This self-guided hike-in fishing trip is part of our ecotourism packages. Bald eagles, brown bears, and black bears frequent this serene river because of the sockeyes that are often seen leaping upstream. The falls are much less impressive than Juneau Creek, but outdoor enthusiasts usually choose the Russian River for the salmon fishing and bear-viewing. This well-maintained trail is handicap accessible, and you'll occasionally come across experienced mountain bikers on the journey the waterfalls.
Hiking in Alaska During "Special Wellness Week"
Combine your fishing, hiking, and hunting trip with a week-long wellness assessment with Dr. Bob Ledda, M.D. This Special Wellness Week includes an Elite Health Evaluation, paleo meals, lectures, Alaska fishing trips, and so much more! Read about Dr. Ledda's journey from an emergency medicine physician to the president of All Alaska Outdoors Lodge by clicking this link. Spring and summer fishing packages are filling fast, so remember to call us today at 1-907-953-0186 before we're fully booked!