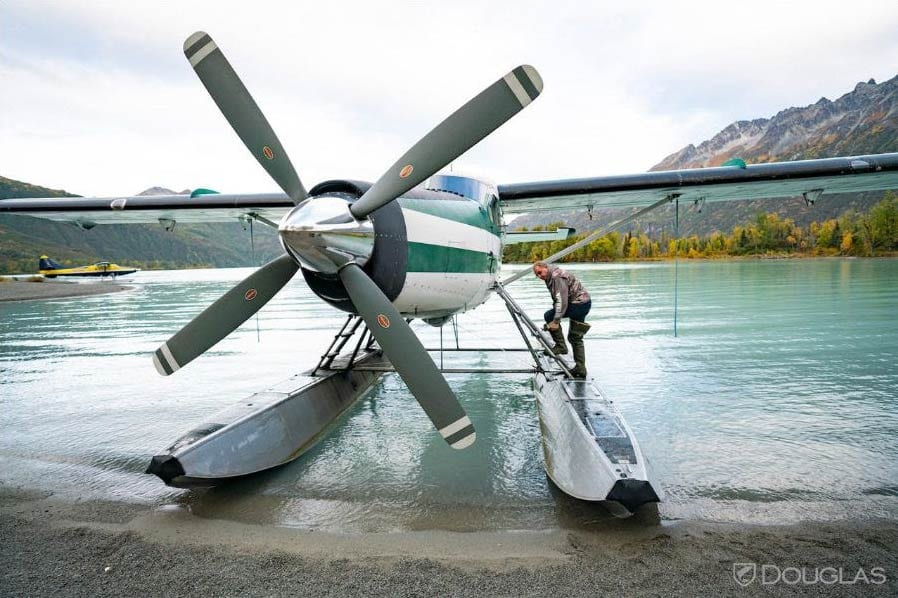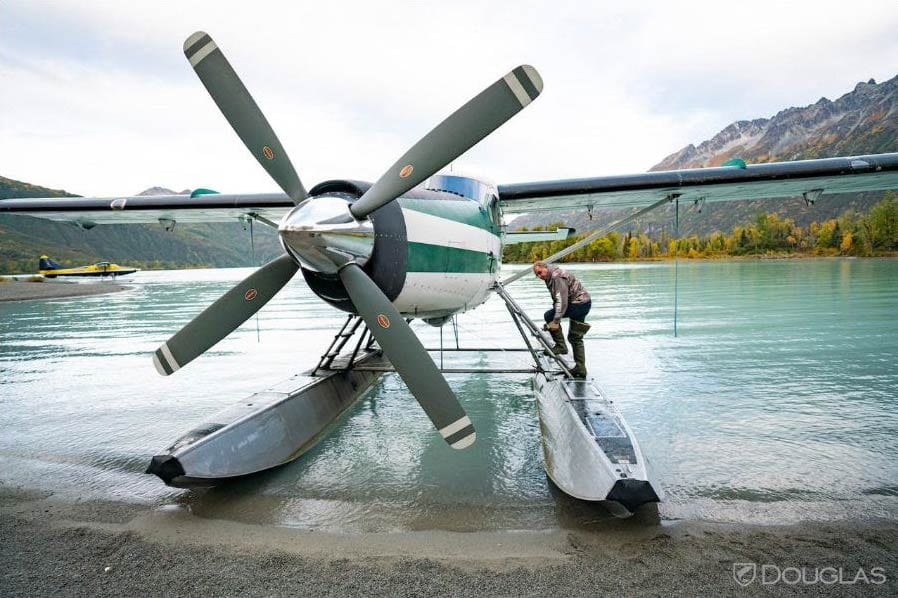 Wow! I can't believe it has been 25 years. It just doesn't seem like a quarter of a Century ago on June 9, 1996, we were hurriedly nailing up the last of the trim in suite A, to receive our first group of guests. Those guys remained repeat clients for many years, and though we haven't seen them recently, we sure have built a following of great people and friends from this business.
The lodge has grown so much. I can remember when we used to raise a tarp on the Lakeside property if there was going to be rain on the night of the cookout. We now have a dedicated commercial kitchen and our conference and dining center. In the early days, I was guiding on the river and running the lodge and helping out with housekeeping and doing all of the fish processing. Thank God for Jason who now completely handles fish processing and Monte who runs the entire river fishing side of the operation.
Relatively early on I turned my attention to the Fly In fishing venue, because I felt like that was an opportunity where we could demonstrate versatility with more to offer than the average road-based operation. Our location on beautiful Longmere Lake, a perfect float plane base, made this a sensible direction. Rather quickly, I bought my first Super Cub and began the exploration phase to find the resources I wanted to develop. In conjunction with our great flying Partners, Talon Air, we developed our current Fly In fishing venue, which is certainly the most versatile of any Fishing Lodge operation on the Kenai Peninsula.
The Ultimate Expedition is something I have nurtured and developed over a quarter century and it remains our marquee trip. We have developed a great stable of reliable subcontractors to handle our saltwater fishing needs out of Seward, Homer and Deep Creek. These outfitters take great care of our clients, as would be expected, since they want to keep our business coming their way over and over again. We have developed some great relationships. Our Upper River Drift has been something we've been offering since our opening with Alaska Clearwater Sportfishing. About 13 years ago, ownership changed and Zack has been great. More about what's new with Zack and All Alaska Outdoors In just a bit…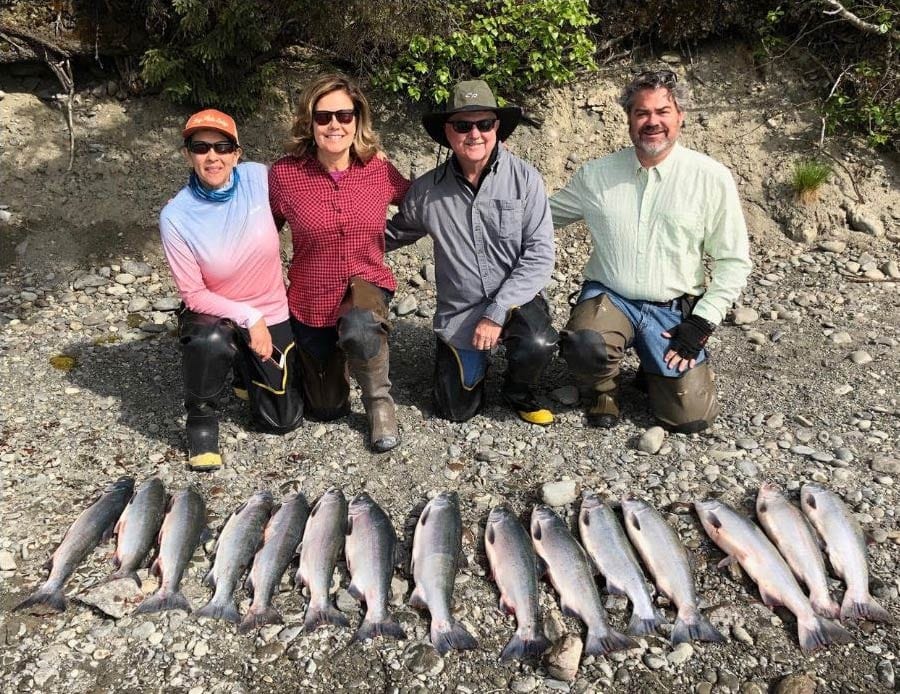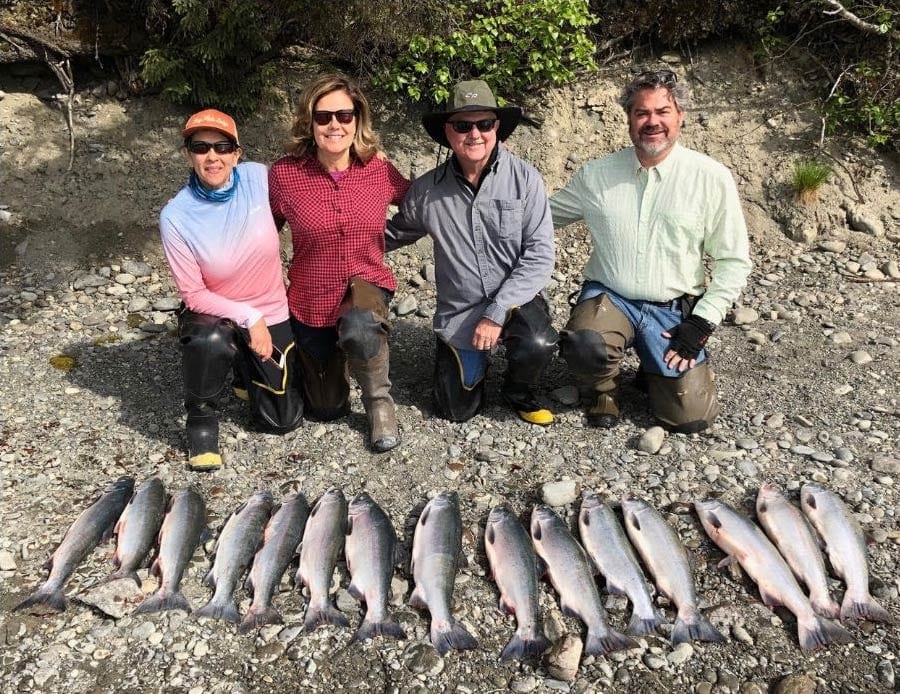 So what can we expect for 2020, our 25th anniversary season?
Talking with partner and head river guide, Monte Roberts, May and June shouldn't be ruled out.  Last year, with record returns of the Russian River Sockeye Salmon, guests enjoyed steady and consistent fishing from the last week in May all the way until the Kenai River Sockeyes started hitting the river in July.  Some good news with regards to those interested in King Salmon – late May and June could be a sleeper.  Unlike, last year, this year Fish and Game is predicting early run returns that will allow retention of smaller fish.  The starting restriction will be 36 inches or less, but depending on run strength, the restriction could be pushed all the way up to 40 or 46 inches. In 2017, the retention limit was 46 inches or smaller, by the end of June.  In recent years, our guides have some of the best king salmon fishing in late May and June, since fishing pressure is so light.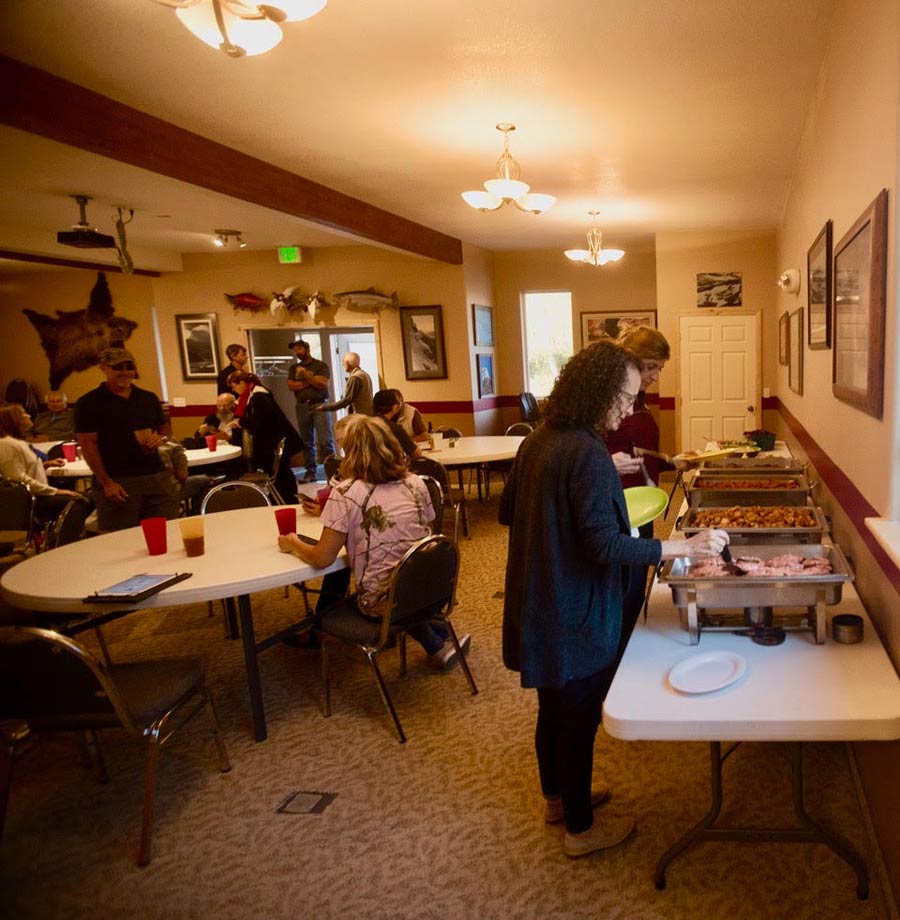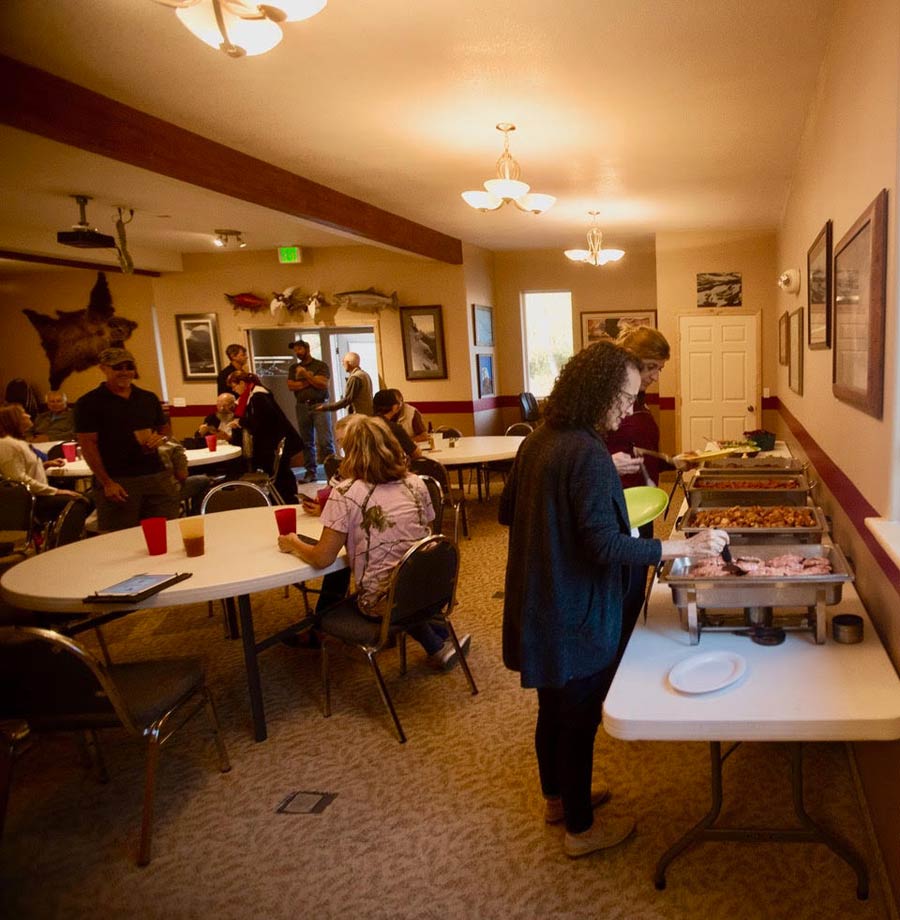 I also mentioned we'd be teaming up with Alaska Clearwater and Zack. We will be offering a Fly Fishing School starting mid June. Zack is an extremely patient instructor, and many of our repeat guest cherish trips with him, then book at least two Upper River Drifts each time they visit us. This Fly Fishing School will include six nights lodging, three Upper River Drifts, one Hike In River Fishing trip and an Ultimate Expedition Fly In trip. Zack will be on all of these experiences. He will provide close instruction. But prior to departure each morning, there will be a lecture held in the conference center covering various aspects of the fly fishing game. The best thing about this school is there is no additional charge for this instruction. Only four seats will be available each week, beginning the week of June 14 and ending the second week in July. It should be a great experience and we're hopeful this is something we will be doing on an annual basis. Details here.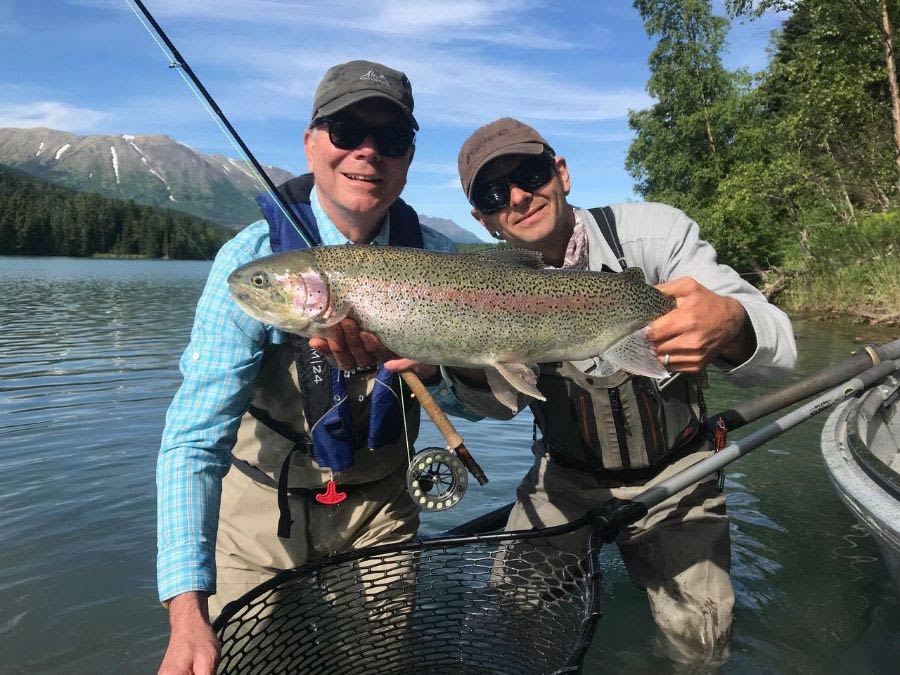 So it looks like June has a lot to offer now, especially if you include the new Talon Air Chinitna Bay coastal bear viewing option that tends to be excellent during that month. But what about July? Well with regards to Kenai River salmon fishing the question is always who knows? Unfortunately, the Alaska Department of Fish and Game has not created the run forecast and harvest projections for 2020 Alaskan salmon fisheries yet. I will keep an eye on the website and when that occurs I will surely let you know what they're expecting in terms of Sockeye Salmon and King Salmon returns, based on the scientific data. That being said, my 25 years of experience watching their forecast, tells me that it's not all that useful anyways. What we can say is that fishing is always a gamble. As recent as two years ago we had a King Salmon return in July that reminded me of when we first open the lodge over two decades ago. I recall two consecutive days when our guides were limiting out morning and afternoon. That had not happened in sometime. And in recent years we have had Complete King salmon closures in July. But don't let that scare you off.
What I can tell you is that when King Salmon fishing is poor, there is usually a significant restriction on commercial fisheries, resulting in a significant increase in the inflow of sockeye salmon. This usually results in liberalized bag limits for sport fishing anglers (limit usually goes to six fish) and great fishing. So the glass is always half full. When King Salmon fishing is good, they generally allow more commercial fishing and our Sockeye fisheries are not as good. For example, two years ago by the end of the season they had over played their hand, allowed too much commercial fishing, and decided that sockeye fishing needed to be restricted to 1 fish a day towards the end of the season. But hey, we had a great King Salmon year and we try not to complain. Last year, Kings didn't close, but returns were such that commercial fishing was limited, and we had an amazing Sockeye season. The important thing is, our river guides approach the Kenai River fishery with a nimble attitude. They are going to take you fishing for what makes sense, along with consideration of what you are hoping to accomplish in that context.
In August, river fishing attention will move to Silver Salmon. And much like the Sockeye fishing, the early August time frame will depend a little bit on how the commercial fisheries are regulated. Generally by the second week in August Silver fishing is pretty reliable. Last year was unusual in that we had such warm conditions that the bite was affected. For the most part, the Silver fishery has been pretty well managed and our fishing has been consistent in August and September on the Kenai River.
There's not much to say about predicting Saltwater fishing. Halibut fishing remains consistent. I will admit that the days of multiple, hundred pound plus fish have ceased to recur regularly, unless one wants to do a multi-day adventure, where you stay on the boat and travel a long distance. But consistent limits and decent fish are still coming in every year and all season long from May through September. The multi species trips out of Seward and Homer allow for fishing for King Salmon, Seabass and Halibut in May and June, the addition of Lingcod in July and towards late July and August Silver Salmon are often targeted on this trip as well. The biggest determinate of successful saltwater fishing is the weather.
Fly In fishing hasn't really changed much over the years. Basically all of our key fisheries are holding up great. Certainly, I find a new tweak now and then for the Ultimate Expedition, but for the most part you can rely on steady Sockeye fishing on the Float Plane Fly In to Wolverine Creek beginning the second week in June, and the fishing remains steady until the end of July or so. This is a great place to see your first brown bear up close if you haven't had that wild Alaskan experience yet.
In late July, Silvers start moving into this system, as well as the neighboring Kustatan River. The fishing has been excellent for decades. It holds up until early September. The bear viewing stays consistent at the Wolverine Creek/Big River Lakes location through most of August. But if you really want a special Bear Viewing experience, by mid July, and holding steady until mid September, The Crescent West Fly In fishing trip is unbeatable. There's Sockeye fishing in July and some Silver fishing in August and excellent fly fishing for Dolly Varden all season. The lake is truly one of the most beautiful environments you could ever hope to spend a day.
And finally, we have to give a quick rundown on the Ultimate Expedition. There's a lot to cover, as this trip is versatile and changes throughout the season. Early June the favorite venue is big Pike, Grayling and Lake Trout. Late June and July usually has us focusing on Grayling, Lake Trout in Char in Lake Clark National Park. By the end of August we've got our sights set on the Bay of Pigs and giant Silver Salmon. This is the premier Fly In fly fishing experience available to our guests. Combine a couple of Ultimate Expeditions with an Upper River Drift or two, and who needs the expense of a remote fishing lodge?
I guess the forecast wouldn't be complete without at least mentioning my expectations for what should be as good a Ptarmigan hunting season as we've ever had. Last year certainly seemed like the birds were off the charts. So far, not much snow and a pretty easy winter. If we have another good spring we might need reinforcements. There's not much time left as most of the slots are already filled.  I think I have a couple of seats open in late September and a couple of days where the whole plane is available the second week of September. Not a bad time to start planning for next year as this trip probably fills up faster than anything on our books.
And finally, one of the things that's become a new emphasis in the last several years, is the option to combine your week stay at All Alaska Outdoors with not just a life-changing outdoor experience, but a complete personal makeover through the Health and Wellness week.  As a long time practicing ER physician, I got a little disgruntled with the disease model of medicine. Eight years ago, I took an educational opportunity that focused on more of a preventative approach. I applied what I learned to my own life with what I felt was miraculous results and elected to complete a fellowship in Age Management Medicine and open my own medical office on the Lodge grounds. Since 2016, we have been offering a Health and Wellness week that tells the story of how to achieve personal wellness and provides a manual on how to improve your own life and avoid the needs of the corrupt medical model. In addition to providing meals and lectures every night, one day at the lodge you receive a thorough medical assessment performed by myself. I use that information to help guide you in a meticulous plan for improving your own well-being. Give it some thought if you were coming to the lodge anyways, and consider it a reason to come to the lodge, if you are so motivated to actually put your own health front and center and learn to change your behavior in a way that will surely decrease your risk of disease and mortality.
So, if you've been with us before – come celebrate our 25th anniversary with us! If you've never enjoyed the All Alaska Outdoors experience – make this your first year and help us kick off our next quarter century of sharing Alaska with the rest of the world.
If my wellness emphasis pays off like I think it will, I'll be writing A similar email newsletter at the half-century mark and still flying the Beaver now and then. Heck, I'll only be 80.
– Bob